This song article is lacking a proper background. You can help by adding one! The relevant section in the Song Article Guideline is a good starting point, and this blog post may also be helpful. We apologize for the inconvenience this may cause in the meantime.

Song pages lacking proper backgrounds are automatically sorted into this category.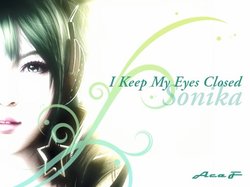 Song title
"I KEEP MY EYES CLOSED"
Uploaded June 29, 2010, with 4,118+ views
Singer(s)
SONiKA
Producer(s)
Ace F (music, lyrics)
Links
Niconico Broadcast
Background
Edit
I KEEP MY EYES CLOSED is an original song by Ace F featuring SONiKA.
I keep my eyes closed
May this flame be put out someday
All I can do is keeping you in my memory

I don't know how I get rid of you out of my mind
Though I want to end this sad love if it's not realized
Please tell me how long it does it take till I forget you

I keep my eyes closed
I stop to follow you too
'Cause I just can't stand to see your gaze on someone else

I keep my eyes closed
May this flame be put out someday
All I can do is keeping you in my memory

Because I know my feeling cannot touch your mind
I'll walk my way alone leaving you in the past
I will leave here tears I shed too with your fantasy

I keep my eyes closed
I stop to follow you too
'Cause I just can't stand to see your gaze on someone else

I keep my eyes closed
May this flame be put out someday
All I can do is keeping you in my memory

I will leave here tears I shed too with your fantasy

I keep my eyes closed...
I keep my eyes closed...

I keep my eyes closed
I stop to follow you too
'Cause I just can't stand to see your gaze on someone else

I keep my eyes closed
May this flame be put out someday
All I can do is keeping you in my memory
External links
Edit
| | |
| --- | --- |
| | Downloads |
| | |
| --- | --- |
| | Articles |