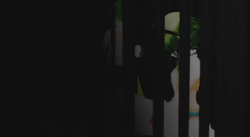 Song title
"I Understand You"
Uploaded April 26, 2015, with 50+ views
Singer(s)
GUMI
SONiKA, AVANNA (chorus)
Producer(s)
A. Maya (music, lyrics)
Shanaachan (GUMI model)
Myth-P (SONiKA model)
amiamy111 (stage)
Links
YouTube Broadcast
Background
Edit
| | | |
| --- | --- | --- |
| " | The lyrics were inspired by Rin's neutral ending in Katawa Shoujo. I really empathized with her throughout the route and her wanting Hisao to say he understood her was something I wanted to make a song about | " |
I Understand You is an original song by A. Maya originally sung by GUMI and back vocals by SONiKA and AVANNA. This song is featured in A. Maya's album, Grey Skies.
There have always been words
I could never say,
Always been feelings that
I could never express
I've spent my life 
Alone, and I fear I
Will never find the end

Every day is a fight -
Me against myself.
Is there a winner or
Is there even a loser?
It doesn't matter;
No, you must see I
Am already dead

If you were to say there's a relief,
You'd be a liar.
I was dead from the day I was born,
Defeated before I left the cradle.
Oh...

If only to have someone say
"I understand" -
That is all that I've ever wanted
But no one does and I
Die again

Every single day is a fight -
Me against the world
But I'm not scared, no I am not scared;
I may die alone, but I will die on
My own terms

Even if someone were to tell me
That I'm not alone,
I know the truth; I know the demon's
Eyes are upon me
I was marked before
I was born
Oh...

But even if I am dead,
It's nice to hear someone say

"I am dead too.
I understand you."
External links
Edit
| | |
| --- | --- |
| | Official |
Ad blocker interference detected!
Wikia is a free-to-use site that makes money from advertising. We have a modified experience for viewers using ad blockers

Wikia is not accessible if you've made further modifications. Remove the custom ad blocker rule(s) and the page will load as expected.