Ad blocker interference detected!
Wikia is a free-to-use site that makes money from advertising. We have a modified experience for viewers using ad blockers

Wikia is not accessible if you've made further modifications. Remove the custom ad blocker rule(s) and the page will load as expected.
This song article is lacking a proper background. You can help by adding one! The relevant section in the Song Article Guideline is a good starting point, and this blog post may also be helpful. We apologize for the inconvenience this may cause in the meantime.

Song pages lacking proper backgrounds are automatically sorted into this category.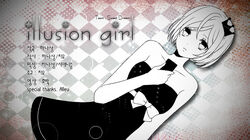 Song title
"illusion girl"
Uploaded September 1, 2013, with 16,000+ views
Singer(s)
SeeU
Producer(s)
Team Sweet Dream
hanasang (music, lyrics, mixing)
chiyu (lyrics, V3)
sianism (mixing)
pumpkin (movie)
Alleu (special thanks)
Links
YouTube Broadcast
Background
Edit
"illusion girl" is an original Korean song by Team Sweet Dream featuring SeeU.
Korean (한국어 가사)
Romaja (로마자)
울려오는 벨소리 울려오는 고동소리
ullyeooneun belsori ullyeooneun godongsori
망설이는 마음뒤로 통화버튼을 눌러
mangsaeorineun ma-eumdwiro tonghwabeoteuneul nulleo
들려오는 목소리 들려오는 심장소리
deullyeooneun moksori deullyeooneun simjangsori
자아상실자의 말 소리는 허무한듯한 몇 소리
jaasangsilja-ui mal sorineun heomuhandeuthan myeot sori
대답한 그 순간에 끊겨버려 울리는 소리
daedaphan geu sungane kkeunkyeobeoryeo ullineun sori
흘러넘치는 이 눈물이 떨어져 내 맘을 세계를 잠기게 해서
heulleoneomchineun i nunmuri tteoreojyeo nae mameul segyereul jamgige haeseo


내가 누구인지 너는 또 누구인지
naega nugu-inji neoneun tto nugu-inji
누군가가 나를 불러세웠어.
nugungaga nareul bulleosewosseo.
"너는 찾아야해 이 시간속의 끝없는 세계를"
"neoneun chajayahae i sigansogui kkeuteopnneun segyeruel"
내가 가진것은 한 조각의 마음과 너와 연결 될 수 있는 핸드폰
naega gajingeoseun han jogagui ma-eumgwa neowa yeongyeol doel su inneun haendeupon
너를 찾고있어 환상속에서. 너에 매달리기 위해..
neoreul chatgoisseo hwansangsogeseo. neo-e maedalligi wihae..




소식단절 발라드 편지더미 속의 일렉팝
sosikdanjeol balladeu pyeonjideomi sogui illekpap
시계소리가 들리는 것 같아 몸이 차가워져와.
sigyesoriga deullineun geot gata momi chagawojyeowa.
그 순간에 울려온 핸드폰에 손을 뻗어
geu sungane ullyeoon haendeupone soneul ppeodeo
반복되는 난제에 대답한 한 마디는
banbokdoeneun nanjee daedaphan han madineun
미안해
mianhae


흔들리는 전자음 흔들리는 마음과 흔들리는 세계
heundeullineun jeonja-eum heundeullineun ma-eumgwa heundeullineun segye
너에 대해서만 가득 차 있기에
neo-e daehaeseoman gadeuk cha itgie
그래서 달려가 너를향해서
geuraeseo dallyeoga neoreulhyanghaeseo
내가 누구일까. 그런건 상관없어.
naega nuguilkka. geureongeon sanggwaneopseo.
지금은 그저 달려갈 뿐이야.
jigeumeun geujeo dlalyeogal ppuniya.
이미 그 순간에 이 세계마저 멈춰버렸지만
imi geu sungane i segyemajeo meomchwobeoryeotjiman
내가 가진것은 한 조각의 마음과 너와 연결 될 수 있는 핸드폰
naega gajingeoseun han jogagui ma-eumgwa neowa yeongyeol doel su inneun haendeupon
너를 찾고있어 언제까지나. 너에게 지금 달려가!
neoreul chatgoisseo eonjekkajina. neo-ege jigeum dallyeoga!




이곳에서 널 처음 알게되었어.
igoseseo neol cheo-eum algedoe-eosseo.
이제부터 널 알아가고 싶어.
ijebuteo neol aragago sipeo.
전자음과 함께 피어나오는 너의 목소리 그 옆에..
jeonja-eum-gwa hamkke pieonaoneun neo-ui moksori geu yeope..


내가 누구였는지 너는 또 누구인지
naega nugueopnneunji neoneun tto nugu-inji
그 소녀는 또다시 누구인지
geu sonyeoneun ttodasi nugu-inji
나는 알아냈어 이 세계속의 끝으로 가는 길
naneun aranaesseo i segyesogui kkeuteuro ganeun gil
내가 가진 것은 한 자루의 마음과 너와 연결될 수 있는 핸드폰
naega gajin geoseun han jaru-ui ma-eumgwa neowa yeongyeoldoel su inneun haendeupon
너를 찾아냈어. 환상속에서.
neoreul chajanaesseo. hwansangsogeseo.
나를 찾아내었지만
nareul chajanaeeotjiman
External Links
Edit
| | |
| --- | --- |
| | Articles |