Ad blocker interference detected!
Wikia is a free-to-use site that makes money from advertising. We have a modified experience for viewers using ad blockers

Wikia is not accessible if you've made further modifications. Remove the custom ad blocker rule(s) and the page will load as expected.
"In the Rain" redirects here. For the song by keeno, see in the rain.
This song article is lacking a proper background. You can help by adding one! The relevant section in the Song Article Guideline is a good starting point, and this blog post may also be helpful. We apologize for the inconvenience this may cause in the meantime.

Song pages lacking proper backgrounds are automatically sorted into this category.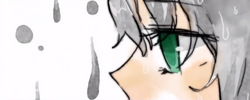 Song title
"In the Rain"
Uploaded February 2, 2014, with 140,000+ views
Singer(s)
Luo Tianyi
Producer(s)
JUSF (compose, arrange, mastering, lyrics)
Weishanzi Yao Mai Shanzi (lyrics)
Asako (illust)
Eating Dog Food (PV)
Links
YouTube Broadcast (reprint, subbed)
bilibili Broadcast

Background
Edit
"In the Rain" is an original Luo Tianyi song that was produced by JUSF.
This song has exceeded 100,000 views on bilibili.
LISTEN TO ME
YO YO COME WITH ME
YEAH CHEER
HEY


Chinese (中文歌词)
Pinyin (拼音)
你说你走的每一步都很沉重
ni shuo ni zou de mei yibu dou hen chenzhong
我被你遗忘在心底的某个角落
wo bei ni yiwang zai xindi de mou ge jiaoluo
角落里是苍白的存活
jiaoluo li shi cangbai de cunhuo
光明处无我卑微的祈求
guangming chu wu wo beiwei de qiqiu
泥泞的路面上昏黄的倒影
nining de lumian shang hunhuang de daoying
渐密的雨水里哭泣的双眸
jian mi de yushui li kuqi de shuangmou
唯一不曾遗失的是我的双手
weiyi buceng yishi de shi wo de shuangshou
曾经握过绚丽光彩的那场梦
cengjing woguo xuanli guangcai di na chang meng
梦境中谁的脸
mengjing zhong shui de lian
笑容不过瞬间
xiaorong buguo shunjian
梦境中谁的眼
mengjing zhong shui de yan
映出朦胧视线
ying chu menglong shixian
HEY
涌动的是否仅是痛苦
yong dong de shifou jin shi tongku
还是波澜着忘却致使梦魇
haishi bolanzhe wangque zhishi mengyan
还不如低下头来问问内心
hai buru dixia tou lai wen wen neixin
究竟已剩多少能挥霍
jiujing yi sheng duoshao neng huihuo
与其一筹莫展自甘堕落
yuqi yichoumozhan zi gan duoluo
不如追逐前方纵使跌落
buru zhuizhu qianfang zongshi dieluo
就算耳光响亮疼痛无比
jiusuan erguang xiangliang tengtong wubi
内心依旧呼唤不要回头
neixin yijiu huhuan buyao huitou
就算整个世界
jiusuan zhengge shijie
不允许我做梦
bu yunxu wo zuomeng
我也会永不懈
wo ye hui yong buxie
将梦想呈现
jiang mengxiang chengxian


被数落
bei shuluo
【现在向第一缕阳光宣誓】
[xianzai xiang di yi lü yangguang xuanshi]
我无所适从
wo wusuoshicong
【走出尘埃与那茫然彷徨】
[zouchu chen'ai yu na mangran fanghuang]
被辱骂
bei ruma
【击碎无谓的束缚与冰凉】
[ji sui wuwei de shufu yu bingliang]
我也不低头
wo ye bu ditou
【走向明媚与幸福的荣光】
[zouxiang mingmei yu xingfu de rongguang]
被掌控
bei zhangkong
【纵然荆棘丛生道路漫长】
[zongran jingji congsheng daolu manchang]
爱恨的失走
ai hen de shi zou
【纵然伤痕累累难免惆怅】
[zongran shanghen leilei nanmian chouchang]
我守护
wo shouhu
【让我坚持住日夜的守望】
[rang wo jianchi zhu riye de shouwang]
你我的笑容
ni wo de xiaorong
【依旧坚信着真挚光芒】
[yijiu jianxinzhe zhenzhi guangmang]
让那泪水绽放
rang na leishui zhanfang
【如此相信着我走到今天
[ruci xiangxinzhe wo zou dao jintian
如此相信着我不愿遗忘】
ruci xiangxinzhe wo bu yuan yiwang]
最为真挚光芒
zuiwei zhenzhi guangmang
【并非匆忙间孤身奋战
[bingfei congmang jian gushen fenzhan
并非软弱无能止步不前】
bingfei ruanruo wuneng zhibu bu qian]
让那旁观者哑然
rang na pangguan zhe yaran
【为了从此不再独自沦陷
[weile congci bu zai duzi lunxian
为了能够追赶无尽遗憾】
weile nenggou zhuigan wujin yihan]
欣赏我们的旋转
xinshang women de xuanzhuan
【还请允许我高声的呼喊
[huan qing yunxu wo gao sheng de huhan
还请听见我歌声的呼唤】
huan qing tingjian wo gesheng de huhuan]


LISTEN TO ME
握住了雨伞的手在颤抖
wo zhule yusan de shou zai chandou
好似还没有忘记昨晚的梦
haosi hai meiyou wangji zuo wan de meng
梦境中我独自一人行走
mengjing zhong wo duzi yiren xingzou
也不知到底何去何从
ye buzhi daodi hequhecong
就在我迷茫着的时候
jiu zai wo mimangzhe de shihou
突然有谁抓住我双手
turan you shui zhua zhu wo shuangshou
令人安心的温度逐渐传来
ling ren anxin de wendu zhujian chuan lai
让我一瞬感受到了那份爱
rang wo yishun ganshou daole na fen ai
你望着我的脸
ni wangzhe wo de lian
轻轻地告诉我
qing qing de gaosu wo
在那遥远前方
zai na yaoyuan qianfang
定有美丽花朵
ding you meili huaduo
LISTEN TO ME
YO YO COME WITH ME
YEAH CHEER
External links
Edit
| | |
| --- | --- |
| | Lyrics |