Ad blocker interference detected!
Wikia is a free-to-use site that makes money from advertising. We have a modified experience for viewers using ad blockers

Wikia is not accessible if you've made further modifications. Remove the custom ad blocker rule(s) and the page will load as expected.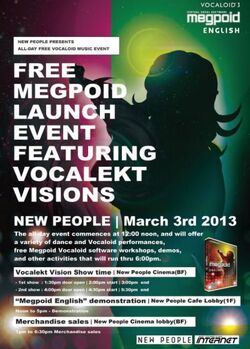 Event title
Internet; Vocalekt Visions
Singer
GUMI, Yuzuki Yukari
Producer(s)
Hachi • Mitchie M • takanon • Vocalekt Visions
Resources
crunchyroll
Description
This Megpoid English launch event took place at NEW PEOPLE, San Francisco. The all-day event commenced at 12:00 noon, and offered a variety of dance and VOCALOID performances, free Megpoid VOCALOID software workshops, demos, and other activities that ran to 6:00 PM.
Background
Edit
Concert date: March 3, 2013
Location: NEW PEOPLE, San Francisco, California
Entry fee: none
Playlist №: 14
Company: Internet Co.
Associations: Vocalekt Visions
Song list
Edit
| № | Japanese, Romaji | English | Singer | Producer |
| --- | --- | --- | --- | --- |
| 01 | Miraculous Encounter | Miraculous Encounter | GUMI | none |
| 02 | Summer Festival | Summer Festival | GUMI | Vocalekt Visions |
| 03 | 海外旅行 (Gaigai Ryokou) | Overseas Travels | GUMI | Vocalekt Visions |
| 04 | Neutrino | Neutrino | GUMI | Vocalekt Visions |
| 05 | Lemon 2013 | Lemon 2013 | GUMI | Vocalekt Visions |
| 06 | だってだってだって (Datte Datte Datte) | Even Even Even | GUMI | takanon |
| 07 | Seasons Change | Seasons Change | Yuzuki Yukari | Vocalekt Visions |
| 08 | I'm So In Love With You | I'm So In Love With You | Yuzuki Yukari | Vocalekt Visions |
| 09 | FREELY TOMORROW | FREELY TOMORROW | GUMI | neutrinoP, Mitchie M |
| 10 | 未来時計AM4:30 (Mirai Tokei AM4:30) | Future Watch AM4:30 | GUMI | Tonbo |
| 11 | 竜巻 (Tatsumaki) | Tornado | GUMI | Vocalekt Visions |
| 12 | -Secret Princess- | -Secret Princess- | GUMI | Vocalekt Visions |
| 13 | You Are The Reason | You Are The Reason | GUMI | neutrinoP |
| 14 | パンダヒーロー (Panda Hero) | Panda Hero | GUMI | Hachi |