Ad blocker interference detected!
Wikia is a free-to-use site that makes money from advertising. We have a modified experience for viewers using ad blockers

Wikia is not accessible if you've made further modifications. Remove the custom ad blocker rule(s) and the page will load as expected.
This song article is lacking a proper background. You can help by adding one! The relevant section in the Song Article Guideline is a good starting point, and this blog post may also be helpful. We apologize for the inconvenience this may cause in the meantime.

Song pages lacking proper backgrounds are automatically sorted into this category.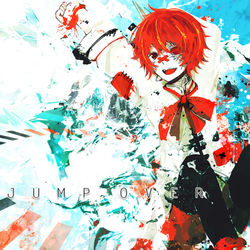 Song title
"JUMP OVER"
Uploaded January 28, 2016, with 3,240+ (NND), 14,230+ (YT) views
Singer(s)
Fukase
Producer(s)
YUKI MAEDA (music, lyrics)
Ruuya (illust)
pino (bass)
TANPURE P (movie)
Links
Niconico Broadcast • YouTube Broadcast

Background
Edit
"JUMP OVER" is an original song by YUKI MAEDA featuring Fukase.
Japanese (日本語歌詞)
Romaji (ローマ字)
こんな世界で泣いてた 全てが終わるのだと
konna sekai de naiteta subete ga owaru no da to
キミとあの日の約束へと
kimi to ano hi no yakusoku eto
淡く揺らめいでる
awaku yurameideru
想い出はただ遠く過ぎて
omoide wa tada tooku sugite
何も見えないで 沈み込む
nanimo mienai de shizumikomu
この海は深く とまどい
kono umi wa fukaku tomadoi


押しつぶされないように 強がった
oshitsubusare nai youni tsuyogatta
キミが泣いた 世界で
kimi ga naita sekai de


キミの隣で 想いが全てを変えるから
kimi no tonari de omoi ga subete o kaeru kara
あの日ボクが 描いた約束だ
ano hi boku ga egaita yakusoku da
こんな世界で泣いてた 全てが終わるのだと
konna sekai de naiteta subete ga owaru no da to
キミと あの日夢で誓った だから進むの
kimi to ano hi yume de chikatta dakara susumu no


終わりないエピソード
owari nai episoodo
その果てにキミがいて 進む
sono hate ni kimi ga ite susumu
全てを閉ざして閉まってた
subete o tozashi te shimatte ta
夢の地図をまた 探して
yume no chizu o mata sagashi te


暗がりな過去も カバン詰め込んで
kuragari na kako mo kaban tsumekon de
笑み揺らめく世界で
emi yurameku sekai de


キミの隣で 想いが全てを変えるから
kimi no tonari de omoi ga subete o kaeru kara
あの日ボクが 描いた約束だ
ano hi boku ga egaita yakusoku da
また動く時計をキミと どこまでも その先へ
mata ugoku tokei o kimi to dokomademo sono saki e
立ち止まってる暇なんてないから
tachidomatteru hima nante nai kara


キミの隣にいる事 ただ一つの奇跡が
kimi no tonari ni iru koto tada hitotsu no kiseki ga
信じた場所キミと越える 想いへ駆ける
shinjita basho kimi to koeru omoi e kakeru


いつまでもここにいられない
itsumademo koko ni irarenai
この世界はもうじき終わる
kono sekai wa moujiki owaru


キミの隣で 想いが全てを変えるから
kimi no tonari de omoi ga subete o kaeru kara
あの日ボクが 描いた約束だ
ano hi boku ga egaita yakusoku da
0じゃない だから必ず この闇を切り裂いて
zero ja nai dakara kanarazu kono yami o kirisaite
キミと あの日夢で誓った だから進むの
kimi to ano hi yume de chikatta dakara susumu no
External links
Edit
| | |
| --- | --- |
| | Lyrics |
| | |
| --- | --- |
| | Articles |