This song article is lacking a proper background. You can help by adding one! The relevant section in the Song Article Guideline is a good starting point, and this blog post may also be helpful. We apologize for the inconvenience this may cause in the meantime.

Song pages lacking proper backgrounds are automatically sorted into this category.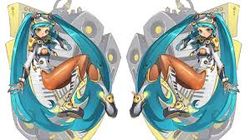 Song title
"Jumpin'"
Uploaded February 14, 2015, with 2,825+ views
Singer(s)
Hatsune Miku
Producer(s)
Robo (music, lyrics, artwork, arrangement, mixing, mastering)
Links
Niconico Broadcast
Background
Edit
"Jumpin'" is an original song by Robo featuring Hatsune Miku.
I wanna jump together with you
To see the world just like a free bird
Because sometimes the world is too wide
Too big to stay just closer and smilin' to you

Too big to stay together, forever and ever
Until the time is going to the end
'Cause every time i see you, i just can't achieve you
I wanna touch you forever, again

Too big to see each other, to just say 'I love you'
Just to see your smile once again
'Cause every time i feel you, i just can't believe
I'm going to jump the world till the end

I can love you, i can kiss you, i can Jumpin' again
To see if the world will still be there
When i will land, when i will land again
So i can give you all my heart, so wait for me and then

This time i will bring you to the stars
and i'll show you my soul
Just keep my hand and jump with me
Because this time i will bring you to the stars
and i'll show you so...

Jumpin' Jumpin' Jumpin'

(Let's Jump with me, My love is you)
External links
Edit
| | |
| --- | --- |
| | Articles |
| | |
| --- | --- |
| | Downloads |
| | |
| --- | --- |
| | Lyrics |
Ad blocker interference detected!
Wikia is a free-to-use site that makes money from advertising. We have a modified experience for viewers using ad blockers

Wikia is not accessible if you've made further modifications. Remove the custom ad blocker rule(s) and the page will load as expected.