This song article is lacking a proper background. You can help by adding one! The relevant section in the Song Article Guideline is a good starting point, and this blog post may also be helpful. We apologize for the inconvenience this may cause in the meantime.

Song pages lacking proper backgrounds are automatically sorted into this category.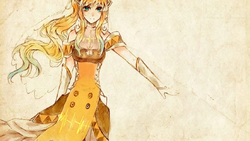 Song title
"Justice"
Uploaded September 10, 2013, with 5,000+ views
Singer(s)
SeeU
Producer(s)
Team LAON:
eorini (music, lyrics)
2010, hayan (TA)
guiyeomi (illust)
Wiri (video)
Links
YouTube Broadcast
Background
Edit
"Justice" is an original Korean song by Team LAON featuring SeeU.
Korean (한국어 가사)
Romaja (로마자)
Justice 공유할 수 없는 정의와
Justice gongyuhal su eomneun jeonguiwa
Dreamless 빛을 잃은 꿈의 멜로디
Dreamless bicheul ireun kkum-ui mellodi
어느 누구도 기억하지 못 할
eoneu nugudo gieokhaji mot hal
머나먼 시간들을 넘어
meonameon sigandeureul neomeo
세상의 경계에서 노래를 부르네
sesang-ui gyeonggyeeseo noraereul bureune


어두운 밤하늘 끝자락을 은은히 빛내는 노랫소리
eoduun bamhaneul kkeutjarageul euneunhi binnaeneun noraetsori
고요한 별의 바다 위에 하나의 별자릴 더한다
goyohan byeorui bada wie hana-ui byeoljaril deohanda
울리는 성당의 타종소리 차가운 바람을 잠재우고
ullineun seongdangui tajongsori chagaun barameul jamjae-ugo
밀려드는 어둠에 몸을 맡긴 채 생명들을 감싸안을 노랠 부른다
millyeodeuneun eodume momeul matgin chae saengmyeongdeureul gamssaaneul norael bureunda
이 자리에서
i jarieseo


Justice 공유할 수 없는 정의와
Justice gongyuhal su eomneun jeonguiwa
Dreamless 빛을 잃은 꿈의 멜로디
Dreamless bicheul ireun kkum-ui mellodi
어느 누구도 기억하지 못 할
eoneu nugudo gieokhaji mot hal
머나먼 시간들을 넘어
meonameon sigandeureul neomeo
세상의 경계에서 노래를 부르네
sesang-ui gyeonggyeeseo noraereul bureune


종말의 시계는 움직이고 세상에 드리운 그림자들
jongmarui sigeneun umjigigo sesange deuriun geurimjadeul
성스런 신의 이름 앞에 하나의 생명을 바친다
seongseureon sin-ui ireum ape hana-ui saengmyeongeul bachinda
서서히 눈뜨는 죄악의 왕 하늘을 뒤덮는 재앙의 빛
seoseohi nuntteuneun joeagui wang haneureul dwideomneun jaeang-ui bit
밀려오는 어둠에 몸을 맡긴 채 생명들을 감싸안을 노랠 부른다
millyeooneun eodume momeul matgin chae saengmyeongdeureul gamssaaneul norael bureunda
이 자리에서
i jarieseo


Justice 공유할 수 없는 정의와
Justice gongyuhal su eomneun jeong-uiwa
Dreamless 빛을 잃은 꿈의 멜로디
Dreamless bicheul ireun kkum-ui mellodi
어느 누구도 기억하지 못 할
eoneu nugudo gieokhaji mot hal
머나먼 시간들을 넘어
meonameon sigandeureul neomeo
세상의 경계에서 노래를 부르네
sesang-ui gyeonggyeeseo noraereul bureune


더 이상은 누구도 상처받지 않도록
eo isangeun nugudo sangcheobatji antorok
날 받아주었던 이 세상 위해
nal badajueotdeon i sesang wihae


Justice 공유할 수 없는 정의와
Justice gongyuhal su eomneun jeonguiwa
Dreamless 빛을 잃은 꿈의 멜로디
Dreamless bicheul ireun kkumui mellodi
어느 누구도 기억하지 못 할
eoneu nugudo gieokhaji mot hal
머나먼 시간들을 넘어
meonameon sigandeureul neomeo
세상의 경계에서 노래를 부르네
sesang-ui gyeonggyeeseo noraereul bureune


Justice 공유할 수 없는 정의와
Justice gongyuhal su eomneun jeong-uiwa
Darkness 사라지지 않는 어둠에
Darkness sarajiji anneun eodume
생명의 노랫소릴 모아
saengmyeong-ui noraetsoril moa
세상을 지켜낼 수 있게
sesangeul jikyeonael su itge
모두가 꿈꿔왔던 희망의 세계를 위해
moduga kkumkkwowatdeon huimang-ui segyereul wihae
External links
Edit
| | |
| --- | --- |
| | Lyrics |
| | |
| --- | --- |
| | Articles |