Ad blocker interference detected!
Wikia is a free-to-use site that makes money from advertising. We have a modified experience for viewers using ad blockers

Wikia is not accessible if you've made further modifications. Remove the custom ad blocker rule(s) and the page will load as expected.
!

Warning:

This song contains explicit lyrics and themes; it may be inappropriate for younger audiences.

The Vocaloid Wiki does not have a policy on lyrical content or theme; however, it attempts to follow the Wikia TOU.
For further discussion see Thread:68883. Explicit songs are automatically sorted into this category.

!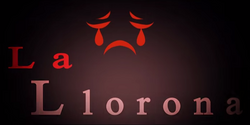 Song title
"La Llorona"
English: The Crying Woman
Uploaded Mar 21, 2015, with 757,700+ views
Singer(s)
MAIKA ft. GUMI, OLIVER
Producer(s)
Project OverDoze:
Steampianist (music, GUMI & OLIVER tuning)
TSutauseries (lyrics, MAIKA tuning)
MiMa (video, illustration)
Links
YouTube Broadcast (Steampianist upload)
YouTube Broadcast (Project OverDoze upload)

Background
Edit
"La Llorona" is an original MAIKA song. It is based off of an old Latino legend of Malinche, an Aztec woman who bore twin boys to Spanish conquistador, Hernán Cortés. He refuses to return to Spain despite the King and Queen's orders, and in fear of him turning against them, send a beautiful woman to seduce him into returning to Spain. He agrees, planning to take his sons with him and leave La Malinche behind.
La Malinche hears this, and falls into despair realizing that an old prophecy that one of her sons would destroy Mexico, was becoming true. She prays to find an answer, and in trying to save Mexico, sacrifices her two sons.
The night before Cortés leaves for Spain, she escapes with her sons. But his men notice her absence and set out to chase her. They reach a lake that is found by Mexico City, and the soldiers surround Malinche. But before they capture her, she takes out a dagger and stabs them in the chest, drowning them in the river. However she is overcome by grief, murdering her children being the last thing she ever wanted to do. Just as she dropped their bodies into the water, she cries "Oh, hijos mios." (Oh, my children.)
La Malinche dies about nine years later, and up to the time of her death she is seen and heard near the lake, crying for her children. This is where the name, "La Llorona" (The Crying Woman), is derived from, and how the legend came to be.
(More on Wikipedia)
The song is featured in the album, Assorted Vocanuts.
Singer + Color
GUMI
MAIKA
OLIVER
GUMI & OLIVER
Her screams
Lights up the night
Her face
Fills you with fright
And still
With all her might
She yearns
To make things right
For them
They lost their lives
She warned
Them of the dive
She prayed
That one survived
Yet none
Of them arrived
They're gone
They're gone
She yells
So on
So on
Church bells
Of tears and salt
She smells
There are no last
Farewells
Farewells
La Llorona
¿Qué pasó?
¿Por qué lloras
mi Amor?
¿Y los niños
dónde están?
En el río
Duermen la.
She walks
Hands dripping wet
She looks
Really upset
She was
Never a threat
Yet no one
Will forget
For them
They've lost their lives
She warned
Them of the dive
She prayed
That one survived
Yet none
Of them arrived
They're gone
They're gone
She knows
Yet from
Their graves
They rose
Her insanity grows
Just as the river
Flows and Flows
La Llorona
¿Qué pasó?
¿Por qué lloras
mi Amor?
¿Y los niños
dónde están?
En el río
Duermen la...
They're gone
They're gone
She digs
I slaughtered them
Like pigs
I drowned
My fucking kids
Their necks
Their necks
They cracked
Like twigs
They're gone
They're gone
She cries
Her eyes cast to
The sky
She never said goodbye
And now's her turn
To die
La Llorona
¿Qué pasó?
Se te fueron
Tus hijos
¿Cómo va la
excavación?
Para ti no hay
Salvación
Derivatives
Edit
CYBER DIVA, BIG AL and Luka's cover
Clara and MAIKA's Spanish cover

| | |
| --- | --- |
| Featuring | Clara, MAIKA |
| Author(s) | Luis Basilio (cover, lyrics), various (illust) |
| Category | VOCALOID cover |
CookiePugGirl's cover

| | |
| --- | --- |
| Featuring | CookiePugGirl |
| Author(s) | CookiePugGirl |
| Category | Human cover |
External links
Edit
| | |
| --- | --- |
| | Articles |