This song article is lacking a proper background. You can help by adding one! The relevant section in the Song Article Guideline is a good starting point, and this blog post may also be helpful. We apologize for the inconvenience this may cause in the meantime.

Song pages lacking proper backgrounds are automatically sorted into this category.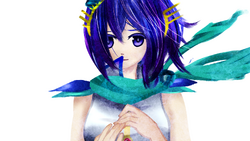 Song title
"lapis lazuli"
Uploaded April 07, 2012, with 5,000+ views
Singer(s)
Aoki Lapis
Producer(s)
Besu Dora Renda-P (music, lyrics)
yuno (illust, PV)
Links
Niconico Broadcast
Background
Edit
"lapis lazuli" is an original song by Besu Dora Renda-P featuring Aoki Lapis.
Japanese (日本語歌詞)
Romaji (ローマ字)
ああ このまま死ねないの?
aa kono mama shine nai no?
愛していた夜は恋の唄
ai shite ita yoru wa koi no uta


雪の降る朝に疼く鼓動
yukinofuru asa ni uzuku kodou
見え透いた嘘に黙る僕
miesuita uso ni damaru boku


意味が見えない部屋の中でキミを待つ
imi ga mienai heya no naka de kimi o matsu
叫びたい 叫びたい けど叫べない
sakebitai sakebitai kedo sakebenai


朝に逃げた僕の
asa ni nigeta boku no
僕の意思の裏側で…
boku no ishi no uragawa de...


ああ 夜に消えたキミの
aa yoru ni kieta kimi no
気持ちは嘘の中へ
kimochi wa uso no naka e


まだ見えないキミの瞳に
mada mienai kimi no hitomi ni
映るモノ
utsuru mono


内臓を抉って潰してよ
naizou o egutte tsubushite yo
もう死にたいような恋の唄
mou shinitai you na koi no uta


すべて狂った時を背に
subete kurutta toki o se ni
流す涙は止まず
nagasu namida wa yamazu


背景は自販機 雨の中
haikei wa jihanki ame no naka
寄り添ってはまた繰り返すの
yorisotte wa mata kurikaesu no


快楽都合の夜のアザ
kairaku tsugou no yoru no aza
恋愛の意味なんて忘れたの
ren'ai no imi nante wasureta no
もう最低の恋の唄
mou saitei no koi no uta
External links
Edit
| | |
| --- | --- |
| | Official |
| | |
| --- | --- |
| | Downloads |