This song article is lacking a proper background. You can help by adding one! The relevant section in the Song Article Guideline is a good starting point, and this blog post may also be helpful. We apologize for the inconvenience this may cause in the meantime.

Song pages lacking proper backgrounds are automatically sorted into this category.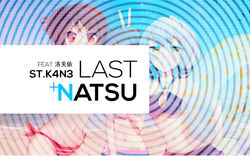 Song title
"Last Natsu"
Uploaded June 30, 2016, with 50,000+ views
Singer(s)
Luo Tianyi
Producer(s)
st.k4n3 (compose, arrange)
Mo Xiao You (lyrics)
Akai and his Little Buddies (filming)
Tuno Tong Yin (video editor)
Baiye REKI, LF Mu Wu (thumbnail illustrators)
Links
YouTube Broadcast (reprint)
bilibili Broadcast

Background
Edit
"Last Natsu" is an original Luo Tianyi song and is featured in the album, Quadimension 4.
Chinese (中文歌词)
Pinyin (拼音)
听骤雨微歇 乌云染上灰白光圈
ting zhou yu wei xie wuyun ran shang huibai guangquan
绿叶飘落窗边 蝉鸣奏响在枝桠间
lüye piaoluo chuang bian chan ming zou xiang zai zhiya jian
风吹起帽檐 歌声伴空气琴弦
feng chui qi maoyan gesheng ban kongqi qin xian
发丝轻拂着肩 暑气在窗外延绵
fa si qing fuzhe jian shuqi zai chuangwai yanmian
夸张表情聊天 谈昨日所见
kuazhang biaoqing liaotian tan zuori suo jian
言语间微笑突然腼腆
yanyu jian weixiao turan mian tian
看夏色街景 棕榈树隔开海平面
kan xia se jiejing zonglü shu ge kai hai pingmian
海鸥停在礁石边缘 夕阳是茜色珠帘
hai'ou ting zai jiaoshi bianyuan xiyang shi qianse zhu lian
游乐场和沙滩秋千 摩天轮又转了几圈
youle chang he shatan qiuqian motian lun you zhuanle ji quan


分享绿茶甜点 过山车染上海风的咸
fenxiang lücha tiandian guoshanche ran shanghai feng de xian
人群川流不歇 落日徐徐滑过屋檐
renqun chuan liu bu xie luori xuxu huaguo wuyan
夙愿悄悄讲一遍 烟火是夏日特典
suyuan qiaoqiao jiang yibian yanhuo shi xia ri tedian
你就在身边 love song又唱了一遍
ni jiu zai shenbian love song you changle yibian
骑单车路过蜿蜒海岸线
qi danche luguo wan yan hai'anxian
哼唱恋爱和冒险
heng chang lian'ai he maoxian
海浪打湿裙边 笑颜是六月的诗篇
hailang da shi qun bian xiaoyan shi liu yue de shipian
砂作琴键你的指尖 弹奏出夏色章节
sha zuo qinjian ni de zhi jian tan zou chu xia se zhangjie
浪声渐远你的祈愿 温柔了整个夏天
lang sheng jian yuan ni de qi yuan wenroule zhengge xiatian
External links
Edit
| | |
| --- | --- |
| | Articles |