Ad blocker interference detected!
Wikia is a free-to-use site that makes money from advertising. We have a modified experience for viewers using ad blockers

Wikia is not accessible if you've made further modifications. Remove the custom ad blocker rule(s) and the page will load as expected.
!

Warning:

This song contains explicit lyrics and themes; it may be inappropriate for younger audiences.

The Vocaloid Wiki does not have a policy on lyrical content or theme; however, it attempts to follow the Wikia TOU.
For further discussion see Thread:68883. Explicit songs are automatically sorted into this category.

!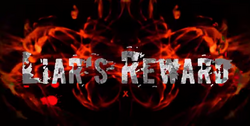 Song title
"Liar's Reward"
Uploaded November 23, 2011, with 10,300+ views
Singer(s)
Megurine Luka
Producer(s)
apol (music, lyrics)
AyaMizuno (illustration)
Yoru (PV)
Razzy and Carmen (lyric check)
Links
YouTube Broadcast
Background
Edit
"Liar's Reward" is an original Megurine Luka song. It is the prequel to the song "The Revenge", in which a yandere girl (Megurine Luka) is so upset with her lover cheating on her decides to kill him.
I can't stop scratching this scar you've made
you open my wounds which have to be closed
drain all my blood, drain all those memories
drain all these shit till I feel numb

your sharp words, piercing my insides
telling me, those lies
how will I, last this pain
'cause it's driving me insane

I know everything I just hide and shut my mouth
just wait and see, someday I'll give your reward

and you're not satisfied you've done it again
you promised me life but you brought me to hell
a cut from my vein, they still remain
I'm sick and tired of this fucking game

when this knife, kissed your throat
you won't lie anymore
so sleep tight, close your eyes
this is going to be a long night

Suffer!! the pain I feel!
your reward, for everything!
Suffer!! the pain I feel!
your reward!!

I know everything I just hide and shut my mouth
just wait and see, someday I'll give your reward

life and lie, they almost sound alike
we all live in this world just to die
love or hate, which one will you take?
you can't escape your fate
External links
Edit
| | |
| --- | --- |
| | Downloads |