Ad blocker interference detected!
Wikia is a free-to-use site that makes money from advertising. We have a modified experience for viewers using ad blockers

Wikia is not accessible if you've made further modifications. Remove the custom ad blocker rule(s) and the page will load as expected.
!

Warning:

This song contains explicit lyrics and themes; it may be inappropriate for younger audiences.

The Vocaloid Wiki does not have a policy on lyrical content or theme; however, it attempts to follow the Wikia TOU.
For further discussion see Thread:68883. Explicit songs are automatically sorted into this category.

!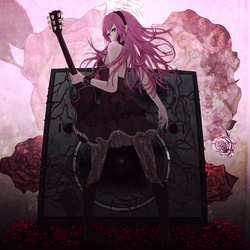 Song title
"Liberate"
Uploaded May 10, 2010, with 14,000+ (NND) / 170,000+ (YT) views
Singer(s)
Megurine Luka
Producer(s)
Yama△ (music, lyrics)
aruk, Makimura, Arisaka Ako, AO, Asari-jiru, tikuwadx-san, Kokuriko, Hatsuko, Shouryuu, h1taki (illust)
Links
Niconico Broadcast • YouTube Broadcast (official)

Background
Edit
Liberate is Yama△'s third original solor Vocaloid work.
This song was featured on Laboratory.
Succeeding versions
Edit
Original PV version

Featuring
Megurine Luka
Author(s)
TSO×Yama△
Category
PV

Description

A PV made by TSO
Japanese (日本語歌詞)
Romaji (ローマ字)
試験管 中のピエロは
shikenkan chuu no piero wa
踊らされ続ける Fate…
odorasare tsuzukeru Fate…
与えられ続ける餌に
ataerare tsuzukeru esa ni
不満そう 何もかも (So Fuck!)
fuman sou nanimokamo (So Fuck!)


意味もなく飼われるその身
imi mo naku kawareru sono mi
狂いだすその前に
kurui dasu sono mae ni
儚すぎる抵抗しよ
hakana sugiru teikou shiyo
いつか見た夢のように…
itsuka mita yume no you ni…


未来無い 過去もろくでない
mirai nai kako moroku de nai
望む術を持たぬ Doll…
nozomu jutsu o motanu Doll…
いつか見た夢の続きを
itsuka mita yume no tsuzuki o
見たい見たい見たい見たい見たい
mitai mitai mitai mitai mitai


怒りだした機械がSay…
okori dashita kikai ga Say…
「本当の私は何処ですか?」
"hontou no watashi wa doko desu ka?"
答えないなら捜すまで
kotaenai nara sagasu made
どこへでも 気の向くままに…
doko e demo ki no muku mama ni…


Liberate! 今全て…
Liberate! ima subete…
My Heart! 加速していく…
My Heart! kasoku shite iku…
If I can't fly away,chained to this world,
Break Out!
気取った神はいらない…
kidotta kami wa iranai…


第三者のリンクを切り
daisansha no rinku o kiri
生産された粗末なFree…
seisansareta somatsu na Free…
捨てる覚悟 出来たかしら?
suteru kakugo deki ta kashira?
退路無し 戻れない (No Back!)
tairo nashi modorenai (No Back!)


動き出した歯車たち
ugokidashita haguruma tachi
脈を打つ体が Heat…
myaku o utsu karada ga Heat…
感じだした痛みが Real…
kanji dashita itami ga Real…
後悔なんて微塵もない…
koukai nante mijin mo nai…


いつか 手に入れる…
itsuka te ni ireru…
私だけの未来
watashi dake no mirai
If nobody knows our place is untrue,
自分を信じればいい…
jibun o shinjireba ii…


Take Back My Heart Find me in the World


Liberate! 今全て…
Liberate! ima subete…
My Heart! 加速していく…
My Heart! kasoku shite iku…
If I can't fly away,chained to this world,
Break Out!
気取った神はいらない…
kidotta kami wa iranai…


いつか 手に入れる…
itsuka te ni ireru…
私だけの未来
watashi dake no mirai
If nobody knows our place is untrue,
見つかるはずさ 必ず…
mitsukaru hazusa kanarazu…
External links
Edit
| | |
| --- | --- |
| | Official |
| | |
| --- | --- |
| | Articles |
| | |
| --- | --- |
| | Lyrics |