This song article is lacking a proper background. You can help by adding one! The relevant section in the Song Article Guideline is a good starting point, and this blog post may also be helpful. We apologize for the inconvenience this may cause in the meantime.

Song pages lacking proper backgrounds are automatically sorted into this category.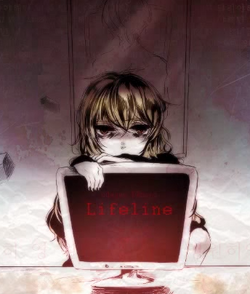 Song title
"Lifeline"
Uploaded February 26, 2012, with 20,000+ views
Singer(s)
SeeU
Producer(s)
udaque (music, lyrics)
Ballal Mint (illust)
Links
YouTube Broadcast
Background
Edit
"Lifeline" is an original SeeU song.
Korean (한국어 가사)
Romaja (로마자)
현실의 거친 어둠에 피할 데를 찾지 못해 상처가 되풀이해서 생겨나는 심장엔 굳은 살 박힌 채
hyeonsirui geochin eodume pihal dereul chatji mothae sangcheoga doepurihaeseo saenggyeonaneun simjangen gudeun sal bakhin chae
내게 세상은 밤인데 다른 사람들은 환하대
naege sesangeun baminde dareun saramdeureun hwanhadae
하얀 색깔의 하늘은 나에게는 너무나 추운 백야상태
hayan saegkkarui haneureun na-egeneun neomuna chuun baegyasangtae
그러던 어느 날 무작위의 사람과 대화할 수 있는 사이트가 있단 얘길 듣고 달려갔지만 역시나 남는 건 혼잣말
geureodeon eoneu nal mujagwiui saramgwa daehwahal su inneun saiteuga itdan yaegil deutgo dallyeogatjiman yeoksina namneun geon honjanmal
말을 거는 건 이게 마지막이란 조그마한 희망 하나 안고 채팅창을 연 순간 그의 모습이 보였고 난
mareul geoneun geon ige majimagiran jogeumahan huimang hana ango chaetingchangeul yeon sungan geu-ui moseubi boyeotgo nan
빠져버렸어
ppajyeobeoryeosseo


난 너를 찾아야 해
nan neoreul chajaya hae
난 너를 만나야 해
nan neoreul mannaya hae
난 너의 손을 잡고
nan neoui soneul japgo
어딘가로 달려야 해
eodingaro dallyeoya hae
난 너를 안아야 해
nan neoreul anaya hae
난 너를 잡아야 해
nan neoreul jabaya hae
난 널 내 품에 안고
nan neol nae pume ango
포근히 잠들어야 해
pogeunhi jamdeureoya hae
난 너를 찾아야 해
nan neoreul chajaya hae
난 너를 만나야 해
nan neoreul mannaya hae
난 너의 손을 잡고
nan neoui soneul japgo
어딘가로 달려야 해
eodingaro dallyeoya hae
난 너를 봐야만 해
nan neoreul bwayaman hae
넌 나를 봐 줘야 해
neon nareul bwa jwoya hae
우린 같은 운명 속에 영원히 맴돌아야 해
urin gateun unmyeong soge yeongwonhi maemdoraya hae


채팅은 계속되었고
chaetingeun gyesokdoeeotgo
창은 꺼지지 않은 채로 몇 시간 동안을 나의 이야기로 대화가 지속되었고
changeun kkeojiji aneun chaero myeot sigan donganeul naui iyagiro daehwaga jisokdoeeotgo
다음 날 혹시나 그 사람을 찾을 수 있을까 하는 작은 희망을 안고 채팅창을 켜 보니 그도 역시 나를 기다렸다는 듯이 그가 있었어
da-eum nal hoksina geu sarameul chajeul su isseulkka haneun jageun huimangeul ango chaetingchangeul kyeo boni geudo yeoksi nareul gidaryeotdaneun deusi geuga isseosseo
하늘이 준 기회야 이런 건 평등의 신에게도 미처 선택 받지 못한 나에겐 기적
haneuri jun gihoeya ireon geon pyeongdeungui sinegedo micheo seontaek batji mothan na-egen gijeok
어제에 이어 나의 이야기를 했고
eojee ieo naui iyagireul haetgo
그도 지나친 길이 나와 같다 했지
geudo jinachin giri nawa gatda haetji
마치 쌍둥이, 그렇게 그날 둘이 밤을 새웠지 처음 만난 듯이
machi ssangdungi, geureoke geunal duri bameul saewotji cheoeum mannan deusi
다음 날도, 그 다음 날도 무려 일 주일 연속으로 만난 엄청난 우연
da-eum naldo, geu daeum naldo muryeo il juil yeonsogeuro mannan eomcheongnan uyeon
이것은 운명 숙명 우리 두 명
igeoseun unmyeong sukmyeong uri du myeong
떨어질 수 없을 거야 분명
tteoreojil su eopseul geoya bunmyeong
그동안 굶주려 있던 내 수명을 다한 기다림도 이제 끝날 무렵
geudongan gumjuryeo itdeon nae sumyeongeul dahan gidarimdo ije kkeunnal muryeop
우린 만나야 해, 같이 가야 해, 내가 거기로
urin mannaya hae, gachi gaya hae, naega geogiro
달려갈 게
dallyeogal ge


난 너를 찾아야 해
nan neoreul chajaya hae
난 너를 만나야 해
nan neoreul mannaya hae
난 너의 손을 잡고
nan neoui soneul japgo
어딘가로 달려야 해
eodingaro dallyeoya hae
난 너를 안아야 해
nan neoreul anaya hae
난 너를 잡아야 해
nan neoreul jabaya hae
난 널 내 품에 안고
nan neol nae pume ango
포근히 잠들어야 해
pogeunhi jamdeureoya hae
난 너를 찾아야 해
nan neoreul chajaya hae
난 너를 만나야 해
nan neoreul mannaya hae
난 너의 손을 잡고
nan neoui soneul japgo
어딘가로 달려야 해
eodingaro dallyeoya hae
난 너를 봐야만 해
nan neoreul bwayaman hae
넌 나를 봐 줘야 해
neon nareul bwa jwoya hae
우린 같은 운명 속에 영원히 영원히
urin gateun unmyeong soge yeongwonhi yeongwonhi
여기에 너는 없어 다 뒤져 봤는데 없어
yeogie neoneun eopseo da dwijyeo bwanneunde eopseo
그 순간 저기서 보인 흐릿한
geu sungan jeogiseo boin heurithan
너의 모습
neoui moseup
난 너를 찾아야 해
nan neoreul chajaya hae
난 너를 만나야 해
nan neoreul mannaya hae
난 너의 손을 잡고
nan neoui soneul japgo
어딘가로 달려야 해
eodingaro dallyeoya hae
난 너를 안아야 해
nan neoreul anaya hae
난 너를 잡아야 해
nan neoreul jabaya hae
난 널 내 품에 안고
nan neol nae pume ango
포근히 잠들어야 해
pogeunhi jamdeureoya hae
난 너를 찾아야 해
nan neoreul chajaya hae
난 너를 만나야 해
nan neoreul mannaya hae
난 너의 손을 잡고
nan neoui soneul japgo
어딘가로 달려야 해
eodingaro dallyeoya hae
난 너를 봐야만 해
nan neoreul bwayaman hae
넌 나를 봐 줘야 해
neon nareul bwa jwoya hae
우린 같은 운명 속에 영원히 영원히
urin gateun unmyeong soge yeongwonhi yeongwonhi


(뉴스를 알려드립니다. 오늘 새벽 두 시 쯤 한 여성이 한강에서 숨진 채 발견되었습니다)
(nyuseureul allyeodeurimnida. oneul saebyeok du si jjeum han yeoseongi hangangeseo sumjin chae balgyeondoeeotseumnida)
(여러 정황으로 볼 때 사고로 추정되지만 평소에 정신분열을 앓고 있던 것으로 밝혀져 경찰은 자살의 가능성도...)
(yeoreo jeonghwangeuro bol ttae sagoro chujeongdoejiman pyeongsoe jeongsinbunyeoreul alko itdeon geoseuro balkyeojyeo gyeongchareun jasarui ganeungseongdo...)
External links
Edit
| | |
| --- | --- |
| | Lyrics |