Background
Edit
Love & Hate is a trilogy made by HoneyWorks, telling the story of three people in a connecting love story, yet not a love triangle specifically. Rin Otosaki becomes the object of the school's "Prince" Len Kagami's affections, and she is conflicted about her own feelings for him and can't decide if she loves him back or hates him. Len also used to be in a relationship with Miku Hatsune, a famous diva, but they broke up when she moved to America to pursue her dream of becoming a singer.
| | | |
| --- | --- | --- |
| | Before adding translated or subbed videos, please read this tutorial to avoid listing gravely mistranslated ones. | |
泣キ虫カレシ (Nakimushi Kareshi)

Uploaded
December 21, 2010
Featuring
Kagamine Len, Hatsune Miku
Music
shito (music), Gom (music, arrangement)
Main article
泣キ虫カレシ (Nakimushi Kareshi)
Lyrics
shito, Gom
Video
Yamako (illust), √Effect (video)
This song focuses on Len Kagami and Miku Hatsune's break up. Miku is moving away to start a singing career and feels that she doesn't want a long distance relationship. Len is greatly saddened by this but resolves to try and be strong.

It has entered the Hall of Fame.
スキキライ (Suki Kirai)

Uploaded
January 21, 2011
Featuring
Kagamine Rin, Kagamine Len
Music
Gom
Main article
スキキライ (Suki Kirai)
Lyrics
Gom
Video
yamako (illust), ziro (video)
This takes place a year after Len and Miku's break up, Len has now moved on and developed a crush on his classmate Rin Otosaki. Rin thinks he's just trying to annoy her but Len insists that his feelings for her are true. Eventually, Len calms down with his approaches and Rin sees his sweeter side, and admits she loves him back.

It has entered the Hall of Legend.
ハジマリノサヨナラ (Hajimari no Sayonara)

Uploaded
September 21, 2013
Featuring
Hatsune Miku, Kagamine Len
Music
Gom (music), Kaizoku Ou (guitar)
Main article
ハジマリノサヨナラ (Hajimari no Sayonara)
Lyrics
shito, Gom
Video
yamako (illust, movie)
A year after Rin and Len have begun dating, Miku returns with the hope of starting over with Len, but learns that Rin and him are going out. Upset, she puts on cold facade, claiming she doesn't care, but admits to herself that she is heartbroken that Len has rejected her. In the end, she befriends the couple, and is happy that Rin has helped Len become a stronger person.

It has entered the Hall of Fame.
Other media appearances
Edit
Publications
Edit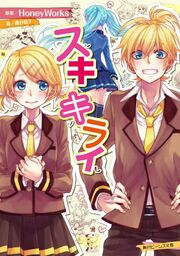 A novel was publsihed October 1, 2013, illustrated by Yamako and written by Touko Fujitani. It's split into three acts, Love & Hate, Crybaby Boyfriend and Beginning's Goodbye.
Ad blocker interference detected!
Wikia is a free-to-use site that makes money from advertising. We have a modified experience for viewers using ad blockers

Wikia is not accessible if you've made further modifications. Remove the custom ad blocker rule(s) and the page will load as expected.