This song article is lacking a proper background. You can help by adding one! The relevant section in the Song Article Guideline is a good starting point, and this blog post may also be helpful. We apologize for the inconvenience this may cause in the meantime.

Song pages lacking proper backgrounds are automatically sorted into this category.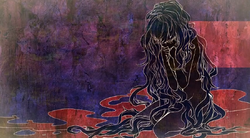 Song title
"Luna Sea"
Uploaded Mar 10, 2012, with 1,600+ views
Singer(s)
SeeU
Producer(s)
Team StarRoid:
Mr.Ecstacy (composer, mixing)
Bloomat (vocal melody, lyrics)
K.S.S (illust, video)
Links
YouTube Broadcast
Background
Edit
An original SeeU song, and one of the first ten by Team StarRoid.
Korean (한국어 가사)
Romaja (로마자)
깊은 바다 가라앉아 두근대는 마음만이
gipeun bada garaanja dugeundaeneun ma-eummani
잃어버린 아름다운 이야기를 기억하지
ilheobeorin areumdaun iyagireul gieokhaji
깊고 차가운 바다속에서 기다리네
gipgo chagaun badasogeseo gidarine
지금 어디에 있어 나를 꺼내줘 제발
jigeum eodie isseo nareul kkeonaejwo jebal


끝이없는 수평선을 아슬아슬 헤매이고
kkeutieobsneun supyeongseoneul aseulaseul hemaeigo
수평선에 숨어버린 달의 조각 찾기위해
supyeongseone sumeobeolin dalui jogag chajgiwihae
힘겨운 발걸음 재촉하며 하늘 보네
himgyeoun balgeoleum jaechoghamyeo haneul bone
지금 어디에 있어 나를 찾아줘 제발
jigeum eodie isseo naleul chajajwo jebal


무거운 눈꺼풀을 못버티고 눈을 감죠
mugeoun nunkkeopuleul mosbeotigo nuneul gamjyo
지금 어디에 있어 나를 구해줘 제발
jigeum eodie isseo nareul guhaejwo jebal
Ad blocker interference detected!
Wikia is a free-to-use site that makes money from advertising. We have a modified experience for viewers using ad blockers

Wikia is not accessible if you've made further modifications. Remove the custom ad blocker rule(s) and the page will load as expected.