Ad blocker interference detected!
Wikia is a free-to-use site that makes money from advertising. We have a modified experience for viewers using ad blockers

Wikia is not accessible if you've made further modifications. Remove the custom ad blocker rule(s) and the page will load as expected.
This song article is lacking a proper background. You can help by adding one! The relevant section in the Song Article Guideline is a good starting point, and this blog post may also be helpful. We apologize for the inconvenience this may cause in the meantime.

Song pages lacking proper backgrounds are automatically sorted into this category.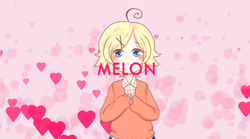 Song title
"MELON"
Uploaded October 18, 2015, with 1,100+ views
Singer(s)
SeeU
Producer(s)
Team LacTeA:
공형 (composition)
피오테오 (tuning)
캄파넬라 (video)
아사기 (lyrics)
Links
YouTube Broadcast
Background
Edit
"MELON" is an original song by the VOCALOID circle, Team LacTeA, featuring SeeU.
Korean (한국어 가사)
Romaja (로마자)
왠지 자꾸만 눈길이 향하는
waenji jakkuman nungiri hyanghaneun
끝엔
kkeuten
일상 속에서 내가 웃고 있어
ilsang sogeseo naega utgo isseo


살짝 빨개진 뺨을 감추고서
saljjak ppalgaejin ppyameul gamchugoseo
난 고동소리에 삼켜져
nan godongsorie samkyeojyeo


두근거리는 감정의 이름은
dugeungeorineun gamjeongui ireumeun
아직 어린 나에게 너무 어려워
ajik eorin naege neomu eoryeowo


내맘대로
naemamdaero
대충 얼버무리고
daechung eolbeomurigo
유치함을 휘저어
yuchihameul hwijeoeo


MELON
달콤함이 퍼져 나가
dalkomhami peojyeo naga
MELON
어떻게 하면
eotteoke hamyeon
터질 것 같은 감정을
teojil geot gateun gamjeongeul
표현할 수 있는 걸까?
pyohyeonhal su inneun geolkka?


MELON
촉촉하게 스며드는
chokchokhage seumyeodeuneun
MELON
거짓말 처럼
geojinmal cheoreom
마구 떠오르는 네 모습들에
magu tteooreuneun ne moseupdeure
잠을 잘 수도 없는 걸
jameul jal sudo eomneun geol


살짝
saljjak
스쳐간 손 끝에 맴도는
seochyeogan son kkeute maemdoneun
너의 체온이 너무 너무 뜨거워
neowi cheoni neomu neomu tteugeowo


미칠 듯이 뛰는 가슴을 눌러
michil deusi ttwineun gaseumeul nulleo
진짜 터질 것 같아!
jinjja teojil geot gata!


MELON
달콤함이 퍼져 나가
dalkomhami peojyeo naga
MELON
당장에라도
dangjang erado
네게 달려가 이 맘이
nege dallyeoga i mami
뭔지 알아내고 싶어
mwonji aranaego sipeo


MELON
사실은 어렴풋이
sasireun eoryeompusi
MELON
너를 향하는
neoreul hyanghaneun
감정이 뭔지 알 것 같지만
gamjeongi mwonji al geot gatjiman
표현할 수가 없는걸
pyohyeonhal suga eomneungeol


두근대는
dugeundaeneun
내마음을
naemaeum-eul


더는 숨기기 힘들어
deoneun sumgigi himdeulo
마음이 가슴을 자꾸 죄여와
maeumi gaseumeul jakku jweyeowa


MELON
달콤함이 퍼져 나가
dalkomhami peojyeo naga
MELON
당장에라도
dangjang erado
네게 달려가 이 맘을
nege dallyeoga i mameul
전부 쏟아내고 싶어
jeonbu ssoda naego sipeo


MELON
사실은 겁먹었던
sasireun geommeogeotdeon
나를
naereul
밀어내듯이
mireonyaedeusi
억지로 짜낸 용기를 안고
eokjiro jjanaen yonggiril an-go
너에게 달려갈게
neoege dallyeogalge


어떤 말을
eotteon mareul
해야 할지
haeya halji
어떡하면
eotteokhamyeon
제대로 네게
jedaero nege
얼버무리던 마음을
eolbeomurideon maeumeul
전할 수 있는지도 모르겠어
jeonhal su inneun jido moreugesseo


가까워진 네 모습괴
gakkawojin nemoseupgwe
터져나온
teojyeonaon
고동 속에
godong soge
나도 모르게 내뱉은
nado moreuge nyaebaetin
좋이한다는 말이 울려퍼졌어
jotihandaeun mari ullyeopeojyeosseo
External links
Edit
| | |
| --- | --- |
| | Articles |
| | |
| --- | --- |
| | Lyrics |
MELON — Vocaloid Lyrics Wiki