Ad blocker interference detected!
Wikia is a free-to-use site that makes money from advertising. We have a modified experience for viewers using ad blockers

Wikia is not accessible if you've made further modifications. Remove the custom ad blocker rule(s) and the page will load as expected.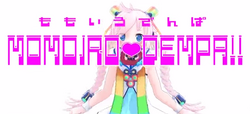 Song title
"MOMOIRO♡DEMPA"
Uploaded Feb 17, 2015, with 600+ views
Singer(s)
Rana
Producer(s)
SN
Links
YouTube Broadcast
Background
Edit
"MOMOIRO♡DEMPA" is an original Rana song.
Japanese (日本語歌詞)
Romaji (ローマ字)
いろいろためしてもいいけど
iroiro tameshite mo iikedo
ほどほどにしてね おねがい!
kodohodo ni shite ne onegai!
わたしはおんなのこだから
watashi wa onna no kodakara
いろいろきにしちゃうことがあるよ!
iroiro kinishi chau koto ga aru yo!
だけどおしえてほしいなあ
dakedo oshiete hoshii naa
このせかいのどこまでも!
kono sekai no doko mademo!


おねがい。。。
onegai...
こんやはもうすこしわたしとつきあって。。。
kon'ya wa mou sukoshi watashi to tsukiatte
だめならももいろのハートで
dame nara momoiro no haato de
あなたを
anata o
うちぬいちゃうから!!
uchinui charu kara!!
そこまでしてうたいたいよ
soko made shite utaitaiyo
しょうずにないたいよ
shouzu ni naitaiyo
わたしから
watashi kara


あなたをニコニコさせたいよ
anata o nikoniko sasetaiyo
いつだって
itsudatte
いっしょにいられるわけじゃないから
isshoni rareru wake janai kara
わたしといると。。。
watashi to iru to...
つまんあい?
tsuman'ai?


いろいろみてみたいから
iroiro mite mitai kara
いきをはずませて
iki o hazumasete
テイクオフ!!
teiku ofu!!
そらたかくとんでかぜにのれるかな?
sora takaku tonde kaze ni noreru kana?
ゆめみたいなことあるかな?
yume mitai na koto aru kana?
もっとおしえてほしいなあ
motto oshiete hoshii naa
このせかいのどこまでも!
kono sekai no doko mademo!


おねがい。。。
onegai...
こんやはもうすこしわたしとつきあって。。。
kon'ya wa mou sukoshi watashi to tsukiatta...
だめならももいろのハートで
dame nara momoiro no haato de
あなたを
anata o
うちぬいちゃうから!!
uchinui charu kara!!
そこまでしてうたいたいよ
soko made shite utaitaiyo
しょうずにないたいよ
shoutzu ni naitaiyo
わたしから
watashi kara
あなたをニコニコさせたいよ
anata o nikoniko sasetaiyo
いつだって
itsu datte
いっしょにいられるわけじゃないから
isshoni irareru wakejanai kara
わたしといると。。。
watashi toiruto...
つまんあい?
tsuman'ai?


あなたとおどりたいよ!!
anata to odoritaiyo!!
わたしから。。。
watashi kara...
あなたをニコニコさせたいよ
anata o nikoniko sasetaiyo
いつだって
itsudatte
いっしょにいられるわけじゃないから
isshoni irareru wakejanai kara
もどかしいでしょう?
modo kashii deshou?
いまのうちだよ!!
ima no uchidayo!!


あなたとうたいたいよ!!
anata to utaitai yo!!
あなたよおどりたいよ!!
anata yo odoritaiyo!!
おきにいいの
oki ni iino
スリップのすそをひるがえして
surippu no suso o hirugaeshite
いつだって
itsudatte
ぎりぎりセーフなわたしだから
girigiri seefu nawatashi dakara
おねがいこんやは。。。
onegai kon'ya wa...
もうすこしわたしと。。。
mou sukoshi watashi to...
DEMPA (x15)
DEMPA (x15)
External links
Edit
| | |
| --- | --- |
| | Downloads |