This song article is lacking a proper background. You can help by adding one! The relevant section in the Song Article Guideline is a good starting point, and this blog post may also be helpful. We apologize for the inconvenience this may cause in the meantime.

Song pages lacking proper backgrounds are automatically sorted into this category.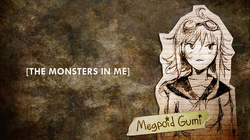 Song title
"MONSTERS IN ME"
Uploaded May 7, 2013, with 5,800+ views
Singer(s)
GUMI English
Producer(s)
pinoyvocaloid (music)
Messo Sizouze (lyrics)
Links
YouTube Broadcast
Background
Edit
"MONSTERS IN ME" is an original work by pinoyvocaloid and Messo Sizouze, featuring GUMI.
During mornings to afternoon
are reminders of doubts and fears.
Of whatever I was really afraid of,
I hear the whispers of the monsters in me. X4

(of the monsters in me...) X2

♬

By evening to midnight,
while the world huddles for its rest,
I'm lulled by the songs of insecurity and threats,
of voices and jeers of the monsters in me. X4

(of the monsters in me...) X2

A part of the self that can't be shunned,
a part of the self that can't be outran.
A part of the self that can't be shunned,
a part of the self that can't be outran.

To suffocate and be incapacitated
enough to wonder if ever it would get better;
The pains of tugs and pulls and stretch
by the playful and teasing monsters in me. X4

(monsters in me...) X2

Creatures of my being, dark and harmful
are part of the existence until… I'm not so sure.
But these thorns inside that pierce and hurt
will always be a puzzle inside of me.

(monsters in me...) X4
External links
Edit
| | |
| --- | --- |
| | Articles |
| | |
| --- | --- |
| | Lyrics |