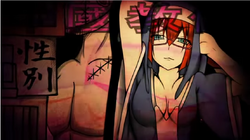 Series title
"マハの話"
Romaji: Maha no Hanashi
English: Maha's Story
Uploaded March 11, 2013
Featuring
Singer(s): GUMI, Hatsune Miku, IA

Character(s): Chloroden, Maria
Producer(s)
masa
Background
Edit
Maha's Story is a trilogy made by masa. It is about a cult and a saint. t is mistakenly refered in the western fandom as Enkantaada series.
| | | |
| --- | --- | --- |
| | Before adding translated or subbed videos, please read this tutorial to avoid listing gravely mistranslated ones. | |
エンカンターダ (Encantada)
チャイニーズドグマ (Chinese Dogma)
メンタリズムマリア (Mentalism Maria)
Related Songs
Edit
インパクトデスエンティティー (Impact Death Entity)

Uploaded
2014.07.24
Featuring
Hatsune Miku
Music
masa
Main article
インパクトデスエンティティー (Impact Death Entity)
Lyrics
masa
Video
masa
Although it doesn't take place is the same era, the Angel, Enti-Suti Le Gabriel, is part of the Maha universe.
Ad blocker interference detected!
Wikia is a free-to-use site that makes money from advertising. We have a modified experience for viewers using ad blockers

Wikia is not accessible if you've made further modifications. Remove the custom ad blocker rule(s) and the page will load as expected.