Masaoka Azuki (正岡小豆) is a main character in Project 575.
Azuki first made her debut alongside Matcha in the game Utayomi 575; an iOS app which featured her VOCALOID voicebank, released 26 July 2013.[1]
Her next appearance is in Uta Kumi 575; a PS Vita game released on 23rd Jan, 2014, This game will use her voicebank to sing.[2]
Azuki also appears in GO! GO! 575; an anime for the project.[3] A manga and novel are also planned.
Her birthday is June 11, she's a Gemini, and her blood type is O.[4] Azuki is described as being cheerful and positive, unlike Matcha. She's very open towards her feelings and tends to act first and think later.
In Go! Go! 575! she is made out to be an awfully forgetful but eccentric person, and somewhat impatient. She is also affectionate, effusive and "clingy", according Matcha's words, often showing exaggerated displays of affection. She is shown to be scared of kites and would cower behind Matcha whenever one appears. Azuki also seems to be fond of food as she often suggests that they go to cafes, and even suggested they sing about hotcakes. Both she and Matcha seem to be oblivious to Yuzu's "fantasies" of the two.
Etymology
Edit
Masaoka Azuki's name refers to a type of bean characterized by its red coloration, making reference to her overall color scheme and hair color.
Appearance
Edit
Azuki was illustrated by Hiro Kanzaki, thus, having a moe style and rounded features characteristic of the illustrator. She has red hair, tied in a bun or chignon hold by an exotic floral hair tie. Due to her background within the game, she is usually depicted in casual or school-related outfits.
Relations
Edit
Product Information
Edit
Demonstrations
Edit
Utayomi and Utakumi
Voicebank Libraries
Edit
Product Information
Optimum
  Genre: Unknown  Tempo: 70-230  Range: A#2 - G4
Package details
While the vocals for Azuki and Matcha were made for the Project 575 game, within days of the games initial release the vocals were exported into the VOCALOID3 engine without authorization. Both vocals were reported to use a "Lite" version of the VOCALOID2 engine.[5]
Software issues as noted:
Notice: Readers should be aware that usage outside of the iOS game is a direct breakage of the License agreement, as currently there is no legal way to import these VOCALOIDs into VOCALOID™.
Voicebank sample
Project 575 Masaoka Azuki
Polls
Do you like Masaoka Azuki?
What characteristic of Masaoka Azuki do you like?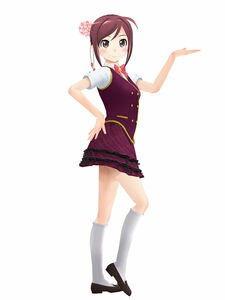 The image gallery for Masaoka Azuki may be viewed here.
References
Edit
External links
Edit
| Language | Description | Site |
| --- | --- | --- |
| Japanese | Project 575 official homepage | Link |
| Japanese | project575 The official Facebook page for Project 575 | Link |
| Japanese | project575(公式) @project575 The official Twitter account for Project 575 | Link |
| Japanese | Project 575チャンネル The official NicoVideo channel for Project 575 | Link |
| Japanese | GO!GO!575 The official NicoVideo channel for Project 575 | Link |
| English | deviantArt , art and media community | Link |
| Japanese | Pixiv , art and media community | Link |
VOCALOID by Voicebank gender factor
Ad blocker interference detected!
Wikia is a free-to-use site that makes money from advertising. We have a modified experience for viewers using ad blockers

Wikia is not accessible if you've made further modifications. Remove the custom ad blocker rule(s) and the page will load as expected.