Megurine Luka VOCALOID2 VOCALOID4
---
Megurine Luka (巡音ルカ), codenamed CV03, is a Japanese VOCALOID developed and distributed by Crypton Future Media, Inc., and was initially released in January 2009 for the VOCALOID2 engine. She is part of the Character Vocal Series and is a Character Voice VOCALOID. In March 2015, additional voice banks and an upgrade to the VOCALOID4 engine were released. She was the third release for Crypton's VOCALOID Character Vocal Series.
Her voice is provided by the Japanese voice actress and singer, Yū Asakawa (浅川悠 / Asakawa Yū), who was recorded in Japanese and English for the voice bank.[1][2]
Concept
Luka's original concept was that of a bilingual VOCALOID and according to Crypton Future Media, Luka was originally going to be called "Hatsune Miku", prior to the change of concept plans for the Character Vocal series.[3]
Etymology
Her surname combines Meguri (巡, circulate or around) and Ne (音, sound), while the name Luka invokes the Japanese homonyms "nagare" (流, flow) and "ka" (歌, song) or "ka" (香, scent), thus making: "songs to all around the world as scent spreads."
Her codename of "CV03" means "Character Voice 03".
Appearance
According to KEI, who was asked to illustrate her by Crypton, due to her bilingual software her design was made to be asymmetrical, so from different angles she would look different. Unlike previous mascots in the series, her costume is not based on a school uniform. She is based on the "Yamaha VL1 VL-1". Her dress was designed to look old fashioned, to make her represent the past, as a form of contrast, the "∞" on her neck area represents "sound around".[4] Her design incorporates woodwind and brass instruments. The gold curl design on her chest mimics brass instruments and a circulatory organ. The blue jewel near her throat represents moisture in the air and water drops.[5]
VOCALOID fans tried to assign an item to Luka as they had done with past VOCALOIDs, sparking heated debate over the choice. Tako Luka marked the end of the "Item War" system where as items were assigned to VOCALOIDs based on Internet Memes. Despite the Internet Meme's popularity, she is often seen with a tuna fish. This is a result of comparing the Japanese word for "tuna" (maguro) with her last name.
Relations
Music featuring Megurine Luka
Examples of usage
Circus Monster

| | |
| --- | --- |
| Featuring | Megurine Luka |
| Producers | Circus-P |
| Category | Original song |
ルカルカ★ナイトフィーバー

| | |
| --- | --- |
| Romaji/English | Luka Luka★Night Fever |
| Featuring | Megurine Luka |
| Producers | samfree |
| Category | Original song |
ハッピーシンセサイザ

| | |
| --- | --- |
| Romaji/English | Happy Synthesizer |
| Featuring | Megurine Luka |
| Producers | EasyPop |
| Category | Original song |
No Logic

| | |
| --- | --- |
| Featuring | Megurine Luka |
| Producers | JimmyThumb-P |
| Category | Original song |
More Examples of usage 
恋愛裁判

| | |
| --- | --- |
| Romaji/English | Renai Saiban (Love Trial) |
| Featuring | Megurine Luka V4X |
| Producers | 40mP, cover by Hyurno |
| Category | Cover song |
システマティック・ラヴ (Systematic Love)

| | |
| --- | --- |
| Romaji/English | Systematic Love |
| Featuring | Megurine Luka V4X |
| Producers | METAx |
| Category | Cover song, PD:A cover |
Megurine Luka

!

| | |
| --- | --- |
| Featuring | Megurine Luka |
| Category | song |
Megurine Luka

!

| | |
| --- | --- |
| Featuring | Megurine Luka |
| Category | song |
Search for music featuring Megurine Luka
[show/hide]
Additional information
Marketing
Despite the inclusion of English, Megurine Luka was not aimed at a world wide audience, instead focused primarily at Japanese producers.
Crypton future Media applied for trademark for Luka on 29th of Jan 2015.[6]
See also: Megurine Luka/Marketing and VOCALOID in other media
Trivia
While the software was in the alpha stage of development, Crypton were hoping for a voice that sounded sexy, however, due to the level of softness in the results the vocals were unable to achieve this.[7]
Some call her "Ruka" or "Luca", however this is incorrect. Though the romanized version of the word could be either, the English version has been confirmed as "Luka" and since there is no dubbed version to content with, this remains the only official name in existence for the VOCALOID.
Reputation
Megurine Luka's character status
Sales
In 2010, Luka was ranked as the 3rd most popular VOCALOID product they sold.[9]
In October 2013, Luka's Vocaloid2 software disappeared off the top 10 products charts as the Hatsune Miku V3 and its bundle package disrupted the chart rankings.[10] Luka had already fallen to 6th place during the 2013 period as a result of Kaito's Kaito V3 release, but this was the first time Luka had disappeared from the charts.
After the charts began to settle down again, Luka began to occupy the same spot on the charts that Kaito's original vocal previously occupied (6th-8th place), putting the popularity of the product on par with the older product. After Meiko's V3 release, Luka became the only member of the VOCALOID2 Character Vocal Series vocals to have a product on the charts, leaving her in 5th place. However, VOCALOID2 vocals were mostly absent from the rankings in April 2014. By mid-2014, both she and the VOCALOID2 Kagamine Rin/Len package no longer held constant places in the rankings and were constantly on and off Crypton Future Media sales charts.
In March 2015, the Megurine Luka V4x package got the no.1 spot for the sales of all digital instruments on Big Fish Audio.[11]
Soon after the V4x package release, she grabbed the Crypton top sales rankings and remained there for April 2015. On 1st of May, the site updated to reveal the package now in 3rd place behind Hatsune Miku V3. This was approx. the same length of time that the MEIKO V3 had spent at the same position in 2014 after its release before the Hatsune Miku V3 package had also pushed it back down again.
In 2014 Crypton's download store Sonicwire reported that the VOCALOID2 version had managed to get to 6th place on the list of sold products.[12] In 2015, her V4x version sold enough to top the charts at no.1 position.[13]
Reaction
Luka was the first VOCALOID to impact Hatsune Miku's popularity. Only a few days after her release, many songs were produced. On the 70th Weekly VOCALOID Ranking (February 2nd, 2009), many of Luka's songs appeared in the Top 30, knocking the very popular "Miku Miku ni Shite Ageru" and songs produced by ryo (with the exception of "Melt") right out of the Top 30. "RIP=RELEASE" had taken the #1 spot, and had earned a total of 843,233 points, making it the song with the highest one-week score.
Miscellaneous
An independent search on Nico Nico Douga revealed that most VOCALOIDs had less than 1,000 videos uploaded on Nico Nico Douga in 2011 between July 1st and December 15th. Luka, however, had managed to gain enough views not to fall into this category. Luka had the 4th highest number of uploads with 2103 videos to Nico Nico Douga. Luka, who had 3855998 views and 301640 mylists in total was the 5th most popular viewed VOCALOID on the site. Luka's 1837.94/143.78 average views placed her as the bottom of the top 6 VOCALOIDs based on average view counts. However, when the lists of top 6 VOCALOIDs were sorted based on the mean number (a more accurate reflection of the VOCALOIDs popularity) Luka did not make the top six.[14]
In 2015 a survey was made based on the popularity of Vocaloids on website Nico Video. For the year 2014, Megurine Luka was the 7th most popular Vocaloid.[15]
Achievements
First bilingual VOCALOID
First female bilingual VOCALOID
First English voicebank produced by a Japanese company
First English voicebank provided by a Japanese provider
First newly released VOCALOID to impact Miku's rankings in the VOCALOID ranking charts
First VOCALOID2 by Crypton to be upgraded to VOCALOID4
First bilingual VOCALOID to be updated
First VOCALOID to have English Appends
First VOCALOID to have E.V.E.C. capabilities
First bilingual VOCALOID4
Polls
Do you like Megurine Luka?
What characteristic of Megurine Luka do you like?
Gallery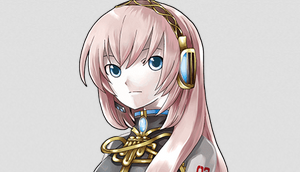 The image gallery for Megurine Luka may be viewed here.
References
External links
| Language | Description | Site |
| --- | --- | --- |
| Japanese | Crypton Future Media Inc. official homepage | Link |
| Japanese | VOCALOID2 Megurine Luka product page for CV03 | Link |
| Japanese | Megurine Luka Piapro product page for LV3 | Link |
| Japanese | Megurine Luka V4X product page for V4X | Link |
| English | deviantArt , art and media community | Link |
| Japanese | Pixiv , art and media community | Link |
| Japanese | Piapro , art and media community | Link |
VOCALOID vocal library plug-ins
---
---
---
---
---
VOCALOID by Voicebank gender factor
Ad blocker interference detected!
Wikia is a free-to-use site that makes money from advertising. We have a modified experience for viewers using ad blockers

Wikia is not accessible if you've made further modifications. Remove the custom ad blocker rule(s) and the page will load as expected.