MEIKO

Biographical information
Gender

Female

Product information
Company

Crypton Future Media, Inc.

Language
Distributor

Crypton Future Media Inc

Voice

Meiko Haigō

Illustrator

Wasshi (V1/2004) iXima (V3/2013)

Code

CRV1

Affiliation
Website
MEIKO, originally codenamed "HANAKO"[1], is a Japanese VOCALOID originally developed by Yamaha Corporation and distributed by Crypton Future Media, Inc., and was initially released in November 2004 for the first VOCALOID engine. There has since been a second installment developed for the VOCALOID3 engine, dubbed MEIKO V3. Her voice is provided by the Japanese female singer, Meiko Haigō (拝郷 メイコ Haigō Meiko).
Etymology
Edit
"MEIKO" comes directly from her voice provider's name, "Haigō Meiko."
"Megumi" was also a name that was considered during her development.[2]
MEIKO's codename of "HANAKO" likely came from " Yamada Hanako (山田花子)", a placeholder name for female characters and the Japanese equivalent to "Jane Smith".
Appearance
Edit
The illustration was done by Shogo Washizu, often called わっしー(Wasshi),  a former member of Crypton.[3][4] Crypton placed this product on the market with a box art that depicted a female illustrated character. This character had nothing to do with the singer's image, but her anime-based appearance appealed to the mainstream audience and the software sold well. Wat even stated how different the intention of the CV series and KAITO/MEIKO were during the development of KAITO V3. This even led to the direction of the updates leading to a completely different course of development compared to the Appends of Hatsune Miku, Kagamine Rin/Len, and Megurine Luka.
MEIKO's boxart hides the front of her red sleeveless jacket, it is difficult to tell what design it consists of. Due to this factor, there are many different designs, even for official artwork.[5] There is no official given age. Although, in Maker Hikōshiki Hatsune Mix she is usually portrayed as a middle-aged woman by KEI, who mentioned in a magazine interview that what he depicts in the comic is not official.[6]
Spurned on by the items held by Hatsune Miku and KAITO, it became popular to feature MEIKO with One Cup Ozeki (sake).
Relations
Edit
KAITO: a complementary voice bank with masculine vocals.
VOCALOID Releases
Edit
"

Japanese Vocaloids and voice providers [comparison]

" by seorial (hosted) ft. VOCALOIDs
  YouTube
Examples of Usage
Edit
To our readers and editors, for section notes please read; this page.
Before adding translated or subbed videos, please read this tutorial in order not to list gravely mistranslated ones.
Change me

Author(s)
Shu-tP
Romaji/English
Change me
Category
Original song
Featuring
MEIKO
Niconico YouTube

Description

An upbeat electronica song done in commemoration of MEIKO's Anniversary in 2009. The song was featured in the Hatsune Miku's Live Party 2012 39's Live in Tokyo Dome City Hall'
雲の遺跡 (alternative)

Author(s)
Yanagi-P
Romaji/English
Kumo no Iseki (alternative) (Relics of the Cloud)
Category
Original song
Featuring
MEIKO
Niconico YouTube

Description

An example of a whisper-soft and realistic MEIKO
Fairy-taled
Re:ЯítueL lily.

Author(s)
maya
Category
Original song
Featuring
MEIKO
Niconico YouTube

Description

A dramatic toned song that takes advantage of MEIKO's strong vocals.
More Examples 
Amazing Grace

Author(s)
Nanameue-P
Romaji/English
Amazing Grace
Category
Cover song
Featuring
MEIKO, Hatsune Miku, Kagamine Rin \ Len, Megurine Luka, KAITO
Niconico YouTube
GODDESS
あきかぜそう

Author(s)
Yat@単純明快P
Romaji/English
A kika ze sō
Category
Original
Featuring
MEIKO V3 Dark
Niconico YouTube
You And Beautiful World

Author(s)
OkpOkp2
Category
Cover
Featuring
MEIKO V3 Whisper
YouTube
Romeo and Cinderella

Author(s)
Krystal Petal
Category
Cover
Featuring
MEIKO V3 Straight
YouTube
Dream Guy

Author(s)
MJQ
Category
Original song
Featuring
MEIKO V3 English
Niconico YouTube
Witness

Author(s)
EmpathP
Category
Original
Featuring
MEIKO V3 English feat KAITO V3 English
Niconico YouTube

Description

A short version of this song was featured as a demo song for MEIKO V3.
Thanatos - If I Can't Be Yours
Dark Horse

Author(s)
Matt_Blue
Category
Cover
Featuring
MEIKO V3 English
YouTube
Marketing
Edit
Putting a character on the boxart proved to be a successful marketing strategy. It influenced the development and art style of other VOCALOIDs such as KAITO and Hatsune Miku. Of the Crypton Future Media VOCALOIDs, while she does have a significant amount of merchandise, MEIKO is often less likely to be promoted than some of the other VOCALOIDs.
Figurines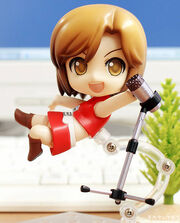 MEIKO has had a few figurines based on her. Due to being the least popular of the Crypton VOCALOIDs, she tends to have the least amount of merchandise.
Food
A box of special "MEIKO Rum Flavored Chocolates" and themed sake pack have been produced.[7][8]
Calendar
Crypton Future Media VOCALOIDs have also appeared in 2013 calendars.[9][10]
Clothing
ACOS has also produced an official cosplay outfit and wig.[11]
An official wig was also shown in 2014.[12]
Manicure set
MEIKO appeared on a nail varnish set along with the other 5 Crypton vocalists. The colors within the set match the colors of the VOCALOID's painted nails.[13]
iOS App
They also appears in the app "AR Vocaloid Walk", a Augmented Reality app. Several other Vocaloids, UTAU and Derivative characters also appear in the app.[14]
Guest Appearances
Main article: VOCALOID in other media
Additional information
Edit
Popularity
Edit
MEIKO Popularity
Sales
MEIKO was well-received and sold well compared to her counterpart KAITO, becoming the most popular of the two. For a long time, she was the best selling Crypton Future Media VOCALOID until the release of Hatsune Miku and sold 3,000+ units. This was three times the number of sales she needed to sell to be classified as successful.
By 2010, whereas KAITO appeared in the Crypton ranking of their best-selling products, MEIKO had fallen from popularity, receiving the least amount of attention of the Crypton VOCALOIDs overall. In the same year, MEIKO was ranked as the 7th most popular VOCALOID product they sold and the least popular of Crypton Future Media's own VOCALOIDs.[15] On December 10th, 2011, MEIKO, along with the Kagamines' append, were the only VOCALOID software packages not on the top ten list.
A month after the Meiko V3 release, Meiko took the no.1 spot on the charts. This was the first time Meiko had ever held a spot in the top 10 since the charts began. However, her no.1 spot was short lived and by April she had dropped to the no.3 spot. This was a much faster fall from no.1 then Kaito V3, who managed to hang onto the place for several months after release. Meiko soon fell behind KAITO V3 in popularity, constantly being one or two places behind his package. By August 2014, MEIKO V3 was in 6th spot, while KAITO V3 held the 3rd place position, loosing out only to Hatsune Miku V3 who claimed the no.1 and no.2 spot in the ranking. She also lost out this particular month to the Kagamine Rin\Len VOCALOID2 package, which had temporary returned to the rankings.
Reaction
Despite the lack of media coverage, MEIKO was much better received and was more successful then Leon, Lola and Miriam and was overall the most successful of the VOCALOID vocals when she was released initally.[16]

After revived interest began to occur in her counterpart, KAITO, following Miku's release, MEIKO users also attempted to revive the interest as well. The Japanese fandom has taken great measures to push her voice to its limits. This is demonstrated by the fanmade derivative "Sakine Meiko," which was the product of producers testing MEIKO's capabilities to produce a much younger sounding voice. Though this involves heavy investment of time to make such a big adjustment to her vocals, it does highlight the overall potential of the VOCALOID era voicebanks, as the same techniques have also from time to time been applied to others of the same software with the same level of results.
Impact
Misc.
An independent search on Nico Nico Douga revealed that most VOCALOIDs had less then 1,000 videos uploaded on Nico Nico Douga in 2011 between July 1st and December 15th. MEIKO, however, did manage to be the 2nd most popular VOCALOID when a mean count was done with 423 views and 21 mylists.[17]
A Japanese electro-pop artist, Susumu Hirasawa, announced that he used a female VOCALOID in the original soundtrack of "Paprika" by Satoshi Kon on his blog. Since Susumu Hirasawa did not reveal which VOCALOID he used for quite some time, except the fact it was a female, many producers speculated it was MEIKO. However, he later mentioned in a magazine interview that it was LOLA.[18]
An old myth within the overseas fandom is that her samples were not from Meiko Haigō, but from a computer that generated samples that sounded like her.
Notable for...
Edit
First Japanese female vocal ever released
First Japanese vocal released for the VOCALOID engine
First Crypton Future Media VOCALOID released
First feminine sounding VOCALOID released by Crypton Future Media
First VOCALOID to have an official avatar
Being used in the oldest known VOCALOID related song
References
Edit
External links
Edit
Official :
Fandom :
VOCALOID by Voicebank gender factor