The following song article is still a work in progress. For information on how to help, see the song article guideline. We apologize for the inconvenience this may cause in the meantime.

What is being worked on?

A Background needs to be added and Derivatives need to be found.

Work-in-progress song pages are automatically sorted into this category.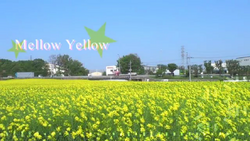 Song title
"Mellow Yellow"
Uploaded April 29, 2013, with 10,100+ views
Singer(s)
MEIKO
Producer(s)
Melissa-P (music, arrangement)
Aien-P (lyrics, voice tuning, video)
Links
Niconico Broadcast • YouTube Broadcast (reprint)

Background
Edit
This song is featured in the game Project DIVA Arcade Future Tone and on the album V Love 25 -Gloria-.
Japanese (日本語歌詞)
Romaji (ローマ字)
忘れかけてたんだ あの頃のいたみも
wasure kaketetan da anokoro no itami mo
笑顔も何もかも 置いて行ってた
egao mo nanimo kamo oite itteta
怖がりながら 後ろを振り返って
kowagari nagara ushiro o furikaette
落としたモノに気付いて行くんだ
otoshite mono ni kizuite ikun da


零れ出てくる 涙のような音は
kobore detekuru namida no youna oto wa
今までの路に散らばっていく
imamade no michi ni chirabatte iku


足元の水面 沈めたてのひら
ashimoto no minamo shizumeta te no hira
揺らいだ遠い面影
yuraida tooi omokage
毎日が狭く感じた 思い出
mainichi ga semaku kanjita omoide
「いつか」のままで 走り続けて
'itsuka' no mama de hashiri tsuzukete


僕の中 鮮やかに熟れてゆく黄色は
boku no naka azayaka ni urete yuku kiiro wa
いつだって迷わずに希望の扉 叩いて
itsu datte mayowazu ni kibou no tobira tataite
世界の果てまで繋がった幸せは
sekai no hate made tsunagatta shiawase wa
鳥になって僕の夢に訪れるんだ
tori ni natte boku no yume ni otozurerun da


青空仰ぐ眼に 写り込んだ光
aozora aogu me ni utsuri konda hikaru
君の指に飛んだ 虹の水玉
kimi no yubi ni tonda niji no mizutama
海辺に咲いた 赤く染まる花は
umibe ni saita akaku somaru hana wa
風に揺らいで 笑顔を誘う
kaze ni yuraide egao o izanau


ただのかけっこでも 歩幅が変われば
tada o kakekko demo hohaba ga kawareba
何もかも違うようで
nanimo kamo chigau you de
ありふれた考え方もしまって
arifureta kangaekata mo shimatte
目の前だけを見つめていて
me no mae dake o mitsumete ite


僕の中 鮮やかに熟れてゆく黄色は
boku no naka azayaka ni urete yuku kiiro wa
今だって迷わずに心の扉 開いて
ima datte mayowazu ni kokoro no tobira hiraite
世界の果てまで繋がった幸せが
sekai no hate made tsunagatta shiawase ga
鳥になって君の夢に訪れるから
tori ni natte kimi no yume ni otozureru kara
Other media appearances
Edit
External links
Edit