This producer page has no profile or trivia about their work. Any information is fine; the profile does not have to be detailed or about their personal life, just about how they impacted the VOCALOID scene with their presence.

Producer pages with no profile are automatically sorted into this category.
ABOUT PRODUCER
WORKS: (Upload date)

"blue" (Aug.25.2008)
"Emotion" (Sep.13.2008)
"It's like a music" (Nov.07.2008)
"koi ha ongaku (Revision)" (Nov.27.2008)
"Boku wa Robot" (May.24.2009)
"blue" (YouTube ver.) (May.31.2009)
"Ding-Dong" (Oct.04.2009)
"Room sized Logic" (Oct.21.2009)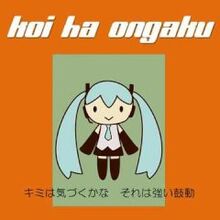 Songs / Featured Works
Edit
| | | |
| --- | --- | --- |
| | Before adding translated or subbed videos, please read this tutorial to avoid listing gravely mistranslated ones. | |
Ding-Dong
Ad blocker interference detected!
Wikia is a free-to-use site that makes money from advertising. We have a modified experience for viewers using ad blockers

Wikia is not accessible if you've made further modifications. Remove the custom ad blocker rule(s) and the page will load as expected.