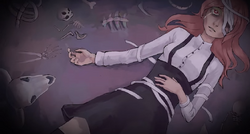 Song title
"Mimicry"
Uploaded October 30, 2015, with 10,300+ views
Singer(s)
Ruby
Producer(s)
Project OverDoze
Steampianist (music)
Tsus (lyrics, tuning)
Shius (translation)
.nova (illustration, video)
Links
YouTube Broadcast
Background
Edit
"
"Better stop it or you will be mine"

---

Happy Halloween! This song was super fun to write! Ruby can be a pain to use, but overall it went smoothly! Hope you like it OuO~

"
 

— Tsus
"Mimicry" is an original Ruby song. It was written in commemoration of Halloween, and is one of the first original songs written for Ruby.
Something creeps down a dark and empty hall
Fear sets in, such imaginable evil
Clock strikes twelve, can you hear the bell tolling?
Close your eyes, there's nothing that can explain

Hushed whispers turn into screaming
No one is safe from the ghouls tonight
The people laugh
"Death is something to wish for"
You better pray you deserve your life

Heavy steps throughout abandoned houses
Heavy breaths as the knife enters deeper
Round and round, did your sanity shatter?
Up and down something bites back its laughter

Violent yells turn into whispers
No one is safe from the Holy light
The people cry
"Life is something to wish for"
You better pray you deserve your death

Broken fragments of these souls follow fading footsteps
Creeping down an old dusty road
Under all the subtext
Monsters chasing fills you with fright
Oh these Holy objects
Trick or Treat
In the dead of night
Better stop it or you will be mine

Save me Save me
Oh somebody save me
Slay me Slay me
Kill the monster Slay me
Buried under
Six feet deep, I wonder
 #SaveMe #SaveMe
Can somebody save
You?

Broken fragments of these souls follow fading footsteps
Creeping down an old dusty road
Under all the subtext
Monsters chasing fills you with fright
Oh these Holy objects
Trick or Treat
In the dead of night
Better stop it or you will be mine