The following song article is still a work in progress. For information on how to help, see the song article guideline. We apologize for the inconvenience this may cause in the meantime.

Work-in-progress song pages are automatically sorted into this category.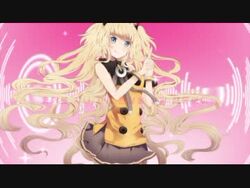 Song title
"Mission"
Uploaded December 26, 2011, with 18,000+ views
Singer(s)
SeeU
Producer(s)
U-sy (Japanese lyrics)
Wataame (Korean lyrics)
Komine (illustration)
yaichi (mix, arrange, composer)
Links
Niconico Broadcast (official, Japanese ver.)
YouTube Broadcast (reprint, Korean ver.)

Background
Edit
"Mission" is an original Korean and Japanese song featuring SeeU. It is one of the final demo songs written to promote the voicebank prior to its release, and is the only demo that has a Korean and Japanese version.
Korean (한국어 가사)
Romaja (로마자)
Lalalalala LUV GAME
Lalalalala LUV MISSION
그대가 장해놓은 를 그 안에서 널
geudaega janghaenoheun reul ge aneseo neol
Lalalalala LUV GAME
Lalalalala LUV MISSION
이두 손에 넣을 때까지
idu sone neoheul ttaekkaji


B B Be my baby baby
B B Be my baby only
Shlalalalala lalalalala
Love is all we need
B B Be my baby baby
B B Be my baby only
Shlalalalala lalalalala
Love is all we need


Ah 더는 튀돌릴 수 없는 걸 밀고 당기는 우리 사이
Ah deoneun twidollil su eomnneun geol milgo danggineun uri sai
들켰을지도 몰라 원하는 마음
deulkyeosseuljido molla weonhaneun maeum
now 누군가기 흘린 소문과 시나리오 따윈 I say No
now nugungagi heullin somungwa sinario ttawin I say No
NoNoNo 믿지 않는 나니가
NoNoNo mitji anneun naniga


한밤중 떠오르는 네 생각에 맘 약해지는데
hanbamjong tteooreuneun ne saenggage mam yakhaejineunde
꿈에도 널 그리는 내 생각 넌 모를 거야
kkumedo neol geurineun nae saenggak neon moreul geoya


지금 시작해 Lalalala LUV GAME
jigeum sijakhae Lalalala LUV GAME
흐트러지는 머리 속의 리듬이
heuteureojineun meori sogui rideumi
애타게 널 향한 거짓 없는 사랑을 속 삭이는 데
aetage neol hyanghan geojit eomnneun sarangeul sok sagineun de
끝나지 않는 Lalalala LUV MISSION
kkeunnaji anneun Lalalala LUV MISSION
너의 함정에 어느새 조금 쓰 빠져 틀어가
neoui hamjeonge eoneusae jogeum sseu ppajyeo teureoga
지금은 그대가 돌아봐 주기만을 기다려
jigeumeun geudaega dorabwa jugimaneul gidaryeo


B B Be my baby baby
B B Be my baby only
Shlalalalala lalalalala
Love is all we need
B B Be my baby baby
B B Be my baby only
Shlalalalala lalalalala


Ah 여기저기 해매보아도 찾을 수 없다는 갈알아
Ah yeogijeogi haemaeboado chajeul su eoptdaneun georara
너리는 미로에서 벗어나는 길
neorineun miroeseo beoseonaneun gil
Why 꿈 속에선 늘 함께인데 기마하면 안되는 건지
Why kkum sogeseon neul hamkkeinde gimahamyeon andwineun geonji


마주친 눈동자에 깊이 새겨 잊을 수 없도록
majuchin nundongjae gipi saegyeo ijeul su eoptdorok
널 향한 내 눈빛이 말하잖아 It's time to love
neol hyanghan nae nunbichi malhajanha It's time to love


그래 사실은 내 마음 다 알면서
geurae sasireun nae maeum da almyeonsseo
아무렇지 않은 척 웃어 넘기는
amureochi anheun cheok useo neomgineun
그대도 나처럼 참을 수 잆을 만큼 떨리겠지
geudaedo nacheoreom chameul su ipseul mankeum tteolligetji
사랑에 매뉴 알이 필요 없는 건
sarange maenyu ari piryo eomnneun geon
과거를 지나 지금 현실을 살기 때문이야
gwageoreul jina jigeum hyeonsireul salgi ttaemuniya
예상밖이라는 그런 흔한 변명은 하지 않아
yesangbakkiraneun geonreon heunhan byeonmyeongeun haji anha


좀 더 가까이서 느끼고 싶어
jom deo gakkaiseo neukkigo sipeo
이 밤 Dreams come true
i bam Dreams come true
Just want 2 be with you, I wish U


지금 시작해 Lalalala LUV GAME
jigeum sijakhae Lalalala LUV GAME
흐트러지는 머리 속의 리듬이
heuteureojineun meori sogui rigeumi
애타게 널 향한 없는 사랑을 속삭이는데
aetage neol hyanghan eomnneun sarangeul soksagineunde
끝나지 않아 너의 항정에 어느새 조금씩 빠져 들어가
kkeunnaji anha neoui hangjeonge eoneusae jogeumssik ppajyeo deureoga
이렇게
ireoke


그래 사실은 내 마음 디 알면 서
geurae sasireun nae maeum di almyeon seo
아무 랗지 않은 적 웃어 넘가는
amu ratchi anheun jeok useo neomganeun
그대도 나처럼 참을 수 없을 만큼 떨리겠지
geudaedo nacheoreom chameul su eopseul mankeum tteolligetji
사랑에 매뉴얼이 필요 없는 건
sarange maenyueori piryo eomnneun geon
과거를 지나 지금 현실을 살기 때문이야
gwageoreul jina jigeum hyeonsireul salgi ttaemuniya
So do I. 사랑하는 만큼 보여줘 네 모든 것을
So do I. saranghaneun mankeum boyeojweo ne modeun geoseul


(shalala How you love me now)
Japanese (日本語歌詞)
Romaji (ローマ字)
Lalalalala LUV GAME
Lalalalala LUV MISSION
アナタが役めた そのルールで
anata ga kimeta sono ruuru de
Lalalalala LUV GAME
Lalalalala LUV MISSION
この手に入れるまで
kono te ni ireru made


B B Be my baby baby
B B Be my baby only
Shlalalalala lalalalala
Love is all we need
B B Be my baby baby
B B Be my baby only
Shlalalalala lalalalala
Love is all we need


Ah もう引き返せない 駆け引きなのかもね
Ah mou hiki kaesenai kake hiki nano kamo ne
駆け引きないかもね
koigokoro wa sou bare teru wa
Know誰かのウワサとか シナリオなんてNo
Know dareka no uwasa toka shinario nante No
NoNoNo 信じないから
NoNoNo shinjinai kara


ふいに…弱気な シンパイ浮かぶけれど
fui ni...yowaki na shinpai ukabu keredo
マジで…本気の シンパイシー感じて
maji de...honki no shinpaishii kanjite


ヤキモキの Lalalala LUV GAME
yakimoki no Lalalala LUV GAME
乱れてる私のリズム
midare teru watashi no rizumu
スキヨ!スキヨ!ほらまた呆れてるでしょ
suki yo! suki yo! hora mata akire teru desho
終わらない Lalalala LUV MISSION
owaranai Lalalala LUV MISSION
溺れてるアメタが仕掛けたワナに
oboreteru ameta ga shikaketa wana ni
ちゃっかり抜け出せなくなってるだけなの
chakkari nuke dasenaku natteru dake nano


B B Be my baby baby
B B Be my baby only
Shlalalalala lalalalala
Love is all we need
B B Be my baby baby
B B Be my baby only
Shlalalalala lalalalala
Love is all we need


Ohアチコチ彷徨っても 見つかるわけないよね
Oh achikochi samayotte mo mitsukaru wakenai yo ne
アナタ以上の ラビリンス
anata ijou no rabi rinsu
Why期待しちゃダメなの? 夢みてもいいでしょ
Why kitai shicha dame nano? yume mitemo ii desho
Show me now こたえて欲しい
Show me now kotaete hoshii


アツク…見つめて まぶたに焼きつけてよ
atsuku...mitsumete mabuta ni yaki tsukete yo
ツヨク…リアルな 言葉で伝えて
tsuyoku...riaru na kotoba de tsutaete


イタイケな私の衝動を
itaike na watashi no shoudou o
さりげなく流すアナタも
sarigenaku nagasu anata mo
スキで スキで どうしようもない症状よ
suki de suki de doushiyo mo nai shoujou yo
恋愛のマニュアルなんてさ
ren'ai manyuaru nante sa
私のメンテナンス次第だから
watashi no mentenansu shidai dakara
想定外、そんあ言い訳なんてしあいわ
souteigai, sonna ii wake nante shinai wa


モット 近くで 感じたい
motto chikaku de kanjitai
今夜 Dreams come true
kon'ya Dreams come true
急展開  急接近 I wish U
kyuu tenkai kyuu sekkin I wish U


ヤキモキの Lalalala LUV GAME
yakimoki no Lalalala LUV GAME
乱れてる私のリズム
midare teru watashi no rizumu
スキヨ!スキヨ!ほらまた呆れてるでしょ
suki yo! suki yo! hora mata akire teru desho
終わらない Lalalala LUV MISSION
owaranai Lalalala LUV MISSION
溺れてるアナタが仕掛けたワナに
oboreteru anata ga shikaketa wana ni
しっかり…
shikkari...


イタイケな私の情動を
itaike na watashi no joudou o
さりげなく流すアメタも
sarigenaku nagasu ameta mo
スキで、スキで、どうしようもない症状よ
suki de, suki de, doushiyou mo nai shoujou yo
恋愛のマニュアルなんてさ
ren'ai no manyuaru nante sa
私のメンテナンス次第だから
watashi no mentenansu shidai dakara
想定外、それでもトコトン愛してみたい
souteigai, soredemo tokoton aishite mitai


(Shalala ヤキモキしてる)
(Shalala yakimokishiteru)