This song article is lacking a proper background. You can help by adding one! The relevant section in the Song Article Guideline is a good starting point, and this blog post may also be helpful. We apologize for the inconvenience this may cause in the meantime.

Song pages lacking proper backgrounds are automatically sorted into this category.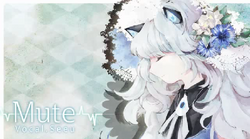 Song title
"Mute"
Uploaded July 10, 2013, with 7,200+ views
Singer(s)
SeeU
Producer(s)
Ariasaria (music, lyrics)
Carolina (illust)
Links
YouTube Broadcast
Background
Edit
"Mute" is an original SeeU song.
Korean (한국어 가사)
Romaja (로마자)
무미건조한 노래
mumigeonjohan norae
차가운 시선 속에
chagaun siseon soge
힘 없이 떠는 나의 목소리
him eopsi tteoneun naui moksori


아아
aa


나를 쳐다보는 저 수많은 사람들의 속삭임
nareul chyeodaboneun jeo sumaneun saramdeurui soksagim
날 조롱하고 있어
nal joronghago isseo


나오지 않는 소리
naoji anneun sori
꺾여져버린 날개
kkeok-kyeojyeobeorin nalgae
고독 속에서 홀로 저항해
godok sogeseo holro jeohanghae


아아
aa


나를 지탱해주던 끝없는 사랑이
nareul jitaenghaejudeon kkeudeomneun sarangi
이제는 떠나가버리려 하네
ijeneun tteonagabeoriryeo hane


침묵 속에
chimmuk soge
외치고 있는 나의 목소리
oechigo inneun naui moksori
"날 제발 도와줬음 좋겠어."
"nal jebal dowajwosseum jokesseo."
잊혀진 채 아무도 듣지 않는 나의 노래
ichyeojin chae amudo deutji anneun naui norae
무의식 속으로 사라진 나의 마음
muuisik sogeuro sarajin naui ma-eum


점점 작아져 가는 나의 존재와 의미
jeomjeom jagajyeo ganeun naui jonjaewa uimi
잃어버린 내 맘의 멜로디
ireobeorin nae mamui mellodi


아아
aa


내 안에 자리하는 말할 수 없이 큰 공허함이
nae ane jarihaneun malhal su eopsi keun gongheohami
날 오늘도 내 목을 조여 오네
nal oneuldo nae mogeul joyeo one


침묵 속에 외치고 있는 나의 목소리
chimmuk soge oechigo inneun naui moksori
"날 제발 도와줬음 좋겠어."
"nal jebal dowajwosseum jokesseo."


잊혀진 채 아무도 듣지 않는 나의 노래를
ichyeojin chae amudo deutji anneun naui noraereul


"한 번만 들어줘."
"han beonman deureojwo."


아무 것도 들려 오지 않게 될 때까지
amu geotdo deulryeo oji anke doel ttaekkaji
난 내 귀를 계속 찢어 왔고
nan nae gwireul gyesok jjijeo watgo
눈을 감고
nuneul gamgo
가만히 노랠 계속하네
gamanhi norael gyesokhane


침묵 속에
chimmuk soge
외치고 있는 나의 목소리
oechigo inneun naui moksori
"날 제발 도와줬음 좋겠어."
"nal jebal dowajwosseum jokesseo."


잊혀진 채
ichyeojin chae
아무도 듣지 않는
amudo deutji anneun
나의 노래
naui norae
External links
Edit
| | |
| --- | --- |
| | Lyrics |
Mute — Vocaloid Lyrics Wiki