This song article is lacking a proper background. You can help by adding one! The relevant section in the Song Article Guideline is a good starting point, and this blog post may also be helpful. We apologize for the inconvenience this may cause in the meantime.

Song pages lacking proper backgrounds are automatically sorted into this category.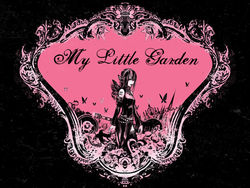 Song title
"My Little Garden"
Uploaded November 9, 2009, with 4,800+ views
Singer(s)
Megurine Luka
Producer(s)
TA9 (music)
chu-ji (lyrics)
TAKA (illust)
Links
Niconico Broadcast
Background
Edit
"My Little Garden" is an original song by TA0 and Chu-Ji featuring Megurine Luka.
No stars in leaning sky
I'm looking for around here

No sea, No moon nothing good
Seeding a joy in here today
seeding a sad in there soon
Will they all bloom or not

Well
I know what I can change is only in my reach
Unchained world
It's so small heaven of me
Now I law me down without having anything
Still songs are
It fills up the emptines
I just keep repeating it not to hear silence

Dreamimg flowers come out
I know seeding is yesterday

Waiting kills me gradually
Saying lie, not to be hated
Saying true, to be sincere
Will they love me or not

Well
No one knows anyone's crying
If the one is me

When it rains
Trying to forget the aches
I always sing it about everything happy
Snowy night
Sleeping with my heaven
Until a day winter is gone
Counting all my lies
If there is a reason why
I was born here, I guess it's
"To make world a garden"
My little garden

Lay me down
Now I lay me down forever
How small is
To make my world happy
Here I lay me down without having anything
Still songs are
To draw up starful sky
I just keep repeating it
Not to lost everything
I wish it makes thousand days

If they say it's all happened in my head
I will make it my garden
My little garden
External links
Edit
| | |
| --- | --- |
| | Official |
Pixiv - Official Illustration
| | |
| --- | --- |
| | Downloads |
| | |
| --- | --- |
| | Lyrics |