This song article is lacking a proper background. You can help by adding one! The relevant section in the Song Article Guideline is a good starting point, and this blog post may also be helpful. We apologize for the inconvenience this may cause in the meantime.

Song pages lacking proper backgrounds are automatically sorted into this category.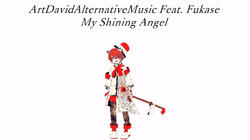 Song title
"My Shining Angel"
Uploaded February 23, 2016, with 60+ views
Singer(s)
Fukase
Producer(s)
ArtDavidAlternativeMusic (music, lyrics)
Links
YouTube Broadcast
Background
Edit
"My Shining Angel" is an original song by ArtDavidAlternativeMusic featuring Fukase.
Something new
I'm not over you
I feel so lonely
You can trust me
I don't know yet
I am single
Everything
Angels sent from up above
I feels like heaven
I stare at you
For my angel
That's how you know

See you again, see you again, see you again, see you again
See you again, see you again, see you again, see you again

You are simply an angel
I need an angel
I'm calling an angel
She's not perfect
Many different ways
Your everything
I want to break up my lonely
But I'm not lonely
I need my girl
She's a special girl
Take me to where you are
My shining angel

Beyond dreams
I hear you all the time
Everything for you
Walk by myself
You will see a lot of things
I saw an angels
A life without love
I give you all my heart
I didn't care
I'll put my whole heart into it

See you again, see you again, see you again, see you again
See you again, see you again, see you again, see you again

You are simply an angel
I need an angel
I'm calling an angel
She's not perfect
Many different ways
Your everything
I want to break up my lonely
But I'm not lonely
I need my girl
She's a special girl
Take me to where you are
My shining angel

I could give you anything, for my angel
I smile if you're happy, she smiles back
You're not alone, I'm always here
Thoughts of you brighten up my day
I miss you my angel, I miss you my angel, I miss you my angel, I miss you my angel
My shining angel, my shining angel, my shining angel, my shining angel
External links
Edit
| | |
| --- | --- |
| | Lyrics |