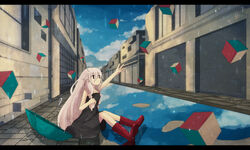 Song title
"n号室の落下するカーテン"
Romaji: n-goushitsu no Rakkasuru Curtain
English: The Falling Curtains in Room n
Uploaded September 12, 2012, with 33,000+ views
Singer(s)
IA
Producer(s)
Yamaji (music, lyrics)
456 (illustration)
Links
Niconico Broadcast (deleted) • YouTube Broadcast

Background
Edit
Yamaji's 18th published work.
This song is featured on limited edition of IA PROJECT's IA/02-COLOR- compilation album and also on VOCAROCK collection loves IA by FARM RECORDS.
Japanese (日本語歌詞)
Romaji (ローマ字)
君が歩いた場所はもう 空っぽで何も見えない
kimi ga aruita basho wa mou karappo de nani mo mienai
散々な繰り返しだと 笑いながら君は言う
sanzanna kurikaeshi da to warai nagara kimi wa iu


天窓から差す光で 目が覚めても体は起きない
tenmado kara sasu hikari de megasamete mo karada wa okinai
不自然な空気の臭いを 明滅する細胞吸い込む
fushizenna kuuki no nioi o meimetsu suru saibou suikomu


さあニヒリスト目を逸らすな ほら入道雲お出かけだ
saa nihirisuto me o sorasu na hora nyuudoogumo odekake da
もう嘘つくことすらできない 今日を終わらせよう
mou usotsuku koto sura dekinai kyou o owaraseyou


落ちることをやめないで 傘を投げる意味がなくなるから
ochiru koto o yamenaide kasa o nageru imi ga nakunaru kara
幻よただそのままで 透明の影を見せて
maboroshi yo tada sono mama de toumei no kage o misete


「これが僕の最後の部屋だ」 無数の泡の一つだけれど
`kore ga boku no saigo no heya da' musuu no awa no hitotsu da keredo
木々の中で音が割れて 空気に刺さり 君が囁く
kigi no naka de oto ga warete kuuki ni sasari kimi ga sasayaku
青い鏡が黒く染まり 僕の中から色が漏れて
aoi kagami ga kuroku somari boku no naka kara iro ga morete
重なり揺れてまた赤信号 埋められない思考の果てに
kasanari yurete mata akashingō ume rarenai shikou no hate ni
止めた呼吸の意味すらも 証明できない
tometa kokyuu no imi sura mo shoumei dekinai


君が歩いた空へと 手を伸ばす夢を見たよ
kimi ga aruita sora e to te o nobasu yume o mita yo
カーテンが綺麗だね まるで君のよう
kaaten ga kirei da ne marude kimi no you


落ちることをやめないで 虹が架かる意味がなくなるから
ochiru koto o yamenaide niji ga kakaru imi ga nakunaru kara
幻よまだ消えないで 彼の期待を裏切る事は許さない
maboroshi yo mada kienaide kare no kitai o uragiru koto wa yurusanai


色づいた世界は 無限の幻想の一つだって 僕は気づいていた
Irozuita sekai wa mugen no gensō no hitotsu datte boku wa kizuite ita
External links
Edit
| | |
| --- | --- |
| | Articles |
Ad blocker interference detected!
Wikia is a free-to-use site that makes money from advertising. We have a modified experience for viewers using ad blockers

Wikia is not accessible if you've made further modifications. Remove the custom ad blocker rule(s) and the page will load as expected.