This song article is lacking a proper background. You can help by adding one! The relevant section in the Song Article Guideline is a good starting point, and this blog post may also be helpful. We apologize for the inconvenience this may cause in the meantime.

Song pages lacking proper backgrounds are automatically sorted into this category.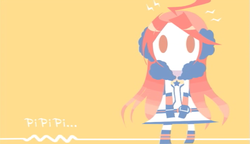 Song title
"NICE MATCHING!"
Uploaded December 4, 2012, with 3,800+ views
Singer(s)
SF-A2 miki
Producer(s)
ArukaP (music, lyrics)
Chanoa (illustration)
Links
Niconico Broadcast
Background
Edit
"NICE MATCHING!" is an original song by ArukaP featuring SF-A2 miki.
A cover of this song featuring Kagamine Rin was released as a single. This song is featured in the album, Ichouiro D-i-s-k.
Japanese (日本語歌詞)
Romaji (ローマ字)
新しい音を時代の先で見つけた
atarashii oto o jidai no saki de mitsuketa
まだ幼くて恥ずかしがり屋みたいだ
mada osanaku te hazukashi gari ya mitai da


さあ おいで 何も怖く無いよ
saa oide nanimo kowakunai yo


明るい歌に乗せて
akarui uta ni nosete
ほら ナイスマッチング!
hora naisu macchingu!
笑顔もたまにはいいね
egao mo tamani wa ii ne
ソー・グッド・スマイリング!
soo guddo sumairingu!
楽しくなってきたね
tanoshiku natte kita ne
きっと僕とはうまくやって行けそうだな
kitto boku to wa umaku yatte ikesou da na


明るい歌もイケル
akarui uta mo ikeru
ほら ナイスマッチング!
hora naisu macchingu!
笑顔の方が好きかも
egao no hou ga suki kamo
ソー・グッド・スマイリング!
soo guddo sumairingu!
ここから始まるんだ
koko kara hajimaru nda
きっと未来をクールに彩るだろう
kitto mirai o kuuru ni irodoru darou


こっそり時代に乗れたような気でいる
kossori jidai ni noreta you na ki de iru
いやいやまだまだ油断は出来ない
iyaiya mada mada yudan wa dekinai


さあ行こう未来を見つめて
saa ikou mirai o mitsumete


明るい歌に乗せて
akarui uta ni nosete
ほら ナイスマッチング!
hora naisu macchingu!
笑顔もたまにはいいね
egao mo tama ni wa ii ne
ソー・グッド・スマイリング!
soo guddo sumairingu!
寂しい時もあるさ
sabishii toki mo aru sa
だけどいつも君の気持ちになれるよ
dakedo itsumo kimi no kimochi ni nareru yo


明るい歌もイケル
akarui uta mo ikeru
ほら ナイスマッチング!
hora naisu macchingu!
笑顔の方が好きかも
egao no hou ga suki kamo
ソー・グッド・スマイリング!
soo guddo sumairingu!
時間が過ぎてゆく
jikan ga sugite yuku
あっという間に中盤を過ぎているよ
atto iu ma ni chuuban o sugite iru yo


明るい歌に乗せて
akarui uta ni nosete
ほら ナイスマッチング!
hora naisu macchingu!
笑顔もたまにはいいね
egao mo tamani wa ii ne
ソー・グッド・スマイリング!
soo guddo sumairingu!
楽しくなってきたね
tanoshiku natte kita ne
きっと僕とはうまくやって行けそうだな
kitto boku to wa umaku yatte ikesou da na


明るい歌もイケル
akarui uta mo ikeru
ほら ナイスマッチング!
hora naisu macchingu!
笑顔の方が好きかも
egao no hou ga suki kamo
ソー・グッド・スマイリング!
soo guddo sumairingu!
ここから始まるんだ
koko kara hajimarunda
きっと未来をクールに彩るだろう
kitto mirai o kuuru ni irodoru darou
External links
Edit
| | |
| --- | --- |
| | Articles |
| | |
| --- | --- |
| | Official |
| | |
| --- | --- |
| | Lyrics |
| | |
| --- | --- |
| | Purchase |