This subject is software work in progress.
For information on how to help, see the guidelines.  More subjects categorized here.
NetVocaloid was an online vocal synthesis service. Users could use synthesize singing voices on a device connected to the Internet by executing the VOCALOID™ engine on the server. This service can be used even if the user does not actually own VOCALOID™ software in such device. The service had been available in English, Japanese and Spanish.
It was set up to function as a bonus service for users to make better use of the VOCALOID™ software. The service, also featured the original version of VocaListener. On April 28, 2012, the service was closed. It would later be replaced with VOCALOID NET.[1]
Main Functions
Edit
Synthesizing audio data of VOCALOID™ singing from sequence data of melody parts written in specialized XML files [*1].
Running effects (Reverb/Compressor) on audio data of synthesized singing.
Encoding audio data of synthesized singing as compressed audio files (MP3/FLAC) [*2].
Providing the above functions with HTTP protocol-based WebAPI.
Although NetVocaloid offers the synthesis service, it doesn't provides the tools for the creation or edition of the required XML file for the synthesis, relying in the tools an provided by the companies that make use of the service.
Promotional Involvement
Edit
Smart Phone' Service Track Record
Edit
Netvocaloid is used in two mobile phone services, allowing send singing messages. These ones are
Utaou (Sing with Miku)
and
Keitai Gackpoid
, allowing you use the voices of
Hatsune Miku
and
Camui Gackpo
respectively.
[3]
Metal Gear Solid: Peace Walker
Edit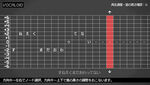 NetVocaloid was one of options available as DLC for
Metal Gear Solid: Peace Walker
. This option allowed to customize the phrases sung by
Metal Gear ZEKE
during the game. The user could use either text/lyric input or phoneme input for edit the pre-established tracks available within the game.
[4]
 8 additional tracks were available for in the different DLC packs available for the game.  This option was shut down on April 28, 2012 when Yamaha removed the NetVocaloid service from their website.
Plan Ballentine's
Edit
NetVocaloid was utilized during the 2nd edition of PlanB, a collaborative project sponsored by Ballantine's where the people can help to create the lyrics for a famous artist.
Voctro Labs, S.L. provided the tools that allowed to the participants listen their written lyrics sung by a virtual female vocalist through the official website. For that the company created Ballentunes, an application that allowed to the user edit the lyrics accord the pre-established melody created by La Oreja de Van Gogh, in an easy and intuitive interface through the website.[5] Ballentunes then transforms the input lyric into a pre-tuned VSQ, for be synthesized through NetVocaloid's service.[6] After this, the users receive a mp3 file of their entry which they can listen and share, if they wish to.
The contest ended with "Otra vez me has sacado a bailar" chosen as winner.
References
Edit