Ad blocker interference detected!
Wikia is a free-to-use site that makes money from advertising. We have a modified experience for viewers using ad blockers

Wikia is not accessible if you've made further modifications. Remove the custom ad blocker rule(s) and the page will load as expected.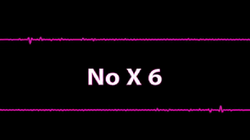 Song title
"No×6"
Uploaded August 10, 2012, with 10,000+ views
Singer(s)
SeeU
Producer(s)
Team StarRoid:
Mr.Ecstacy (music, lyrics, mixing)
Tak-wolhan-A (illust, movie)
Links
YouTube Broadcast
Background
Edit
"No×6" is an original SeeU song, written by Team StarRoid.
The song was featured in the "Crazy Otaku's Unofficial B-Rated Don't Ask SeeU Concert"
Korean (한국어 가사)
Romaja (로마자)
몇일째 꺼진 니 전화기
myeochiljjae kkeojin ni jeonhwagi
왜이리 불안 한건지
waeiri buran hangeonji
도무지 알 수 가 없지
domuji al su ga eoptji
니가 어디로 간건지
niga eodiro gangeonji
내가 싫어져 간건지
naega silheojyeo gangeonji
친구의 연락이 왔지
chinguui yeonragi watji
다른 여자와 있다지
dareun yeojawa itdaji
한번 두고보라지
hanbeon dugoboraji
넌 뭐가 그리 잘났니
neon mwoga geuri jalnanni
내 마음을 부수고
nae ma-eumeul busugo


태연히 다른 여자와 노닥거리고 있는지
taeyeonhi dareun yeojawa nodaggeorigo inneunji
언? 가 너도 똑같은 아픔을 맛보는 날에
eonjen ga neodo ttokgateun apeumeul masboneun nare
잊지마 지금 내 말은 한번 더 기억날테니
itjima jigeum nae mareun hanbeon deo gieoknalteni
너를 믿던 나는
neoreul middeon naneun


노노노 노노노
nonono nonono
바보 같은 사랑
babo gateun sarang
노노노 노노노
nonono nonono
너의 기억 들은
neoui gieok deureun
노노노 노노노
nonono nonono
내게 남긴 상처
naege namgin sangcheo


모두 가져가
modu gajyeoga
절대로 용서 못해
jeoldaero yongseo mothae
몇번을 속여왔던거니
myeotbeoneul sogyeowatdeongeoni
그리 내가 만만하니
geuri naega manmanhani
내가 어디에 있든지
naega eodie itdeunji
니가 알바 아니잖니
niga alba anijanhni
너와는 상관없잖니
neowaneun sanggwaneoptjanhni
놓치긴 아까운거니
notchigin akkaungeoni
이제와 왜 집착하니
ijewa wae jibchaghani
좀 사라져주겠니
jom sarajyeojugenni
넌 지금 내게 차였지
neon jigeum naege chayeotji
그 기분이 어떠니
geu gibuni eotteoni


어차피 다른 여자와 놀고있을 걸 알지만
eochapi dareun yeojawa nolgoisseul geol aljiman
니 옆에있는 그 여자 뒷세계 유명한 언니
ni yeopeinneun geu yeoja dwitsegye yumyeonghan eonni
다 털린 너를 만나도
da teollin neoreul mannado
난 그냥 지나칠테니
nan geunyang jinachilteni
혼자 아픈 사랑
honja apeun sarang


노노노노 노노
nononono nono
매달리던 나는
maedallideon naneun
노노노노 노노
nononono nono
아파 흘린 눈물
apa heullin nunmul
노노노노 노노
nononono nono
내게 했던 약속
naege haetdeon yaksok


모두 가져가
modu gajyeoga
나는 너를 너를
naneun neoreul neoreul
나는 너를 너를
naneun neoreul neoreul
나는 너를 절대로 용서 못해
naneun neoreul jeoldaero yongseo mothae
넌 뭐가 그리 잘났니
neon mwoga geuri jalnanni
내 마음을 부수고
nae ma-eumeul busugo


태연히 다른 여자와 노닥거리고 있는지
taeyeonhi dareun yeojawa nodakgeorigo inneunji
언? 가 너도 똑같은 아픔을 맛보는 날에
eonjen ga neodo ttokgateun apeumeul matboneun nare
잊지마 지금 내 말은 한번 더 기억날테니
itjima jigeum nae mareun hanbeon deo gieoknalteni
너를 믿던 나는
neoreul middeon naneun


노노노 노노노
nonono nonono
바보 같은 사랑
babo gateun sarang
노노노 노노노
nonono nonono
너의 기억 들은
neoui gieok deuleun
노노노 노노노
nonono nonono
내게 남긴 상처
naege namgin sangcheo


모두 가져가
modu gajyeoga
저리 가- 가-
jeori ga- ga-
저리 가- 가-
jeori ga- ga-
저리 꺼져
jeori kkeojyeo
혼자 아픈 사랑
honja apeun sarang


노노노노 노노
nononono nono
매달리던 나는
maedallideon naneun
노노노노 노노
nononono nono
아파 흘린 눈물
apa heullin nunmul
노노노노 노노
nononono nono
내게 했던 약속
naege haetdeon yaksok
모두 가져가
modu gajyeoga
External links
Edit
| | |
| --- | --- |
| | Lyrics |
No×6 — Vocaloid Lyrics Wiki