Ad blocker interference detected!
Wikia is a free-to-use site that makes money from advertising. We have a modified experience for viewers using ad blockers

Wikia is not accessible if you've made further modifications. Remove the custom ad blocker rule(s) and the page will load as expected.
This article is about the song. For the album, please see On You (album).
This song article is lacking a proper background. You can help by adding one! The relevant section in the Song Article Guideline is a good starting point, and this blog post may also be helpful. We apologize for the inconvenience this may cause in the meantime.

Song pages lacking proper backgrounds are automatically sorted into this category.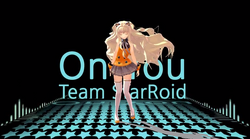 Song title
"On You"
Uploaded March 11, 2012, with 3,500+ views
Singer(s)
SeeU
Producer(s)
Team StarRoid:
Mr.Ecstasy (music, mixing)
Lence (vocal melody, lyrics, video)
Bloomat (video)
Links
YouTube Broadcast
vimeo Broadcast
Background
Edit
An original SeeU song, and the very first one written by Team StarRoid for Korean VOCALOIDs. This song was featured in Team StarRoid's album, On You.
Korean (한국어 가사)
Romaja (로마자)
비가 그친 새벽거리
biga geuchin saebyeokgeori
외로움에 지쳐버린
weroume jichyeobeorin


기억속 나의 추억 사랑
gieoksok naui chueok sarang
모두 잊혀져 가고 있네요
modu ijhyeojyeo gago inneyo
너에 모든걸 잊고서
neoe modeungeol iggoseo
또 다시 여행을 가요
tto dasi yeohaengeul gayo
또 다시 여행을 가요
tto dasi yeohaengeul gayo
내기억속에 사라진
naegieoksoke sarajin
추억을 찾아서 가요
chueokeul chajaseo gayo
작은 메모위에
jakeun memowie
지워져 버린 기억
jiweojyeo beorin gieok
나홀로 떠나요
nahollo tteonayo
오래된 메모속 기억을 찾아
oraedoen memosok gieokeul chaja
지워져 버린
jiweojyeo beorin


추억 찾으러
chueok chajeureo
(미안해 잊지는 마요
(mianhae itjineun mayo
내 추억도 잊지마요)
nae chueokdo itjimayo)


떠나가요 외로운
tteonagayo oeroun
(미안해 떠나지 마요
(mianhae tteonaji mayo
날 기억해주길 바래)
nal gieokhaejugil barae)


추억찾아 떠나가요
chueokchaja tteonagayo
(미안해 잊지는 마요
(mianhae itjineun mayo
내 추억도 잊지마요)
nae chueokdo itjimayo)


사진 속 우리 함께 했던
sajin sok uri hamkke haetteon
기억 사라져 가고 있네요
gieok sarajyeo gago inneyo
그대 모든걸 안고선
geudae modeungeol angoseon
난 다시 눈물로 가요
nan dasi nunmulro gayo
우리가 함께 했던 날
uriga hamgge haetdeon nal
그때를 찾아서 가요
geuttaereul chajaseo gayo
작은 일기안에
jakeun ilgiane
새겨진 오랜 추억
saegyeojin oraen chueok
그대와 떠나요
geudaewa tteonayo
이제는 지워질 추억을 찾아
ijeneun jiweojil chueokeul chaja
그대와 나는
geudaewa naneun


함께 찾으러
hamkke chajeureo
(미안해 잊지는 마요
(mianhae itjineun mayo
내 추억도 잊지마요)
nae chueokdo itjimayo)


떠나가요 외로운
tteonagayo oeroun
(미안해 떠나지 마요
(mianhae tteonaji mayo
날 기억해주길 바래)
nal gieokhaejugil barae)


추억찾아 떠나가요
chueokchaja tteonagayo
(미안해 잊지는 마요
(mianhae itjineun mayo
내 추억도 잊지마요)
nae chueokdo itjimayo)


추억찾아 떠나가요
chueokchaja tteonagayo
(미안해 떠나지 마요
(mianhae tteonaji mayo
날 기억해주길 바래)
nal gieokhaejugil barae)


미안해 잊지는 마요
mianhae itjineun mayo
내 추억도 잊지마요
nae chueokdo itjimayo
External links
Edit
| | |
| --- | --- |
| | Articles |