Ad blocker interference detected!
Wikia is a free-to-use site that makes money from advertising. We have a modified experience for viewers using ad blockers

Wikia is not accessible if you've made further modifications. Remove the custom ad blocker rule(s) and the page will load as expected.
This song article is lacking a proper background. You can help by adding one! The relevant section in the Song Article Guideline is a good starting point, and this blog post may also be helpful. We apologize for the inconvenience this may cause in the meantime.

Song pages lacking proper backgrounds are automatically sorted into this category.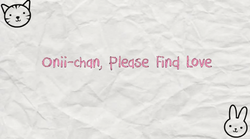 Song title
"Onii-chan, Please Find Love"
Uploaded March 2, 2016, with 90+ views
Singer(s)
anon
Producer(s)
RoarTheDancer (lyrics)
Julian Donut (movie, artwork, PV)
Karnia Joy (tuning, singing melody)
Links
YouTube Broadcast
Background
Edit
| | | |
| --- | --- | --- |
| " | We did a re-imagination of RoarTheDancer's song "Onii-chan, Please Find Love." | " |
"Onii-Chan, Please Find Love" is an original song by RoarTheDancer and Julian Donut featuring anon.
Onii-chan is the Japanese word for "older brother".
I want to hold you tight
So you will never leave
But I can see you there
It's like you're trembling

Could this be love
For that girl in class
I only say her name
And your heart beats fast

Onii-chan, I command
Please don't cry like that ever again
I'm supposed to be the one getting hugs
Please, onii-chan, could you find your love

Do not give up
Keep on fighting
Com on, brother
You can do it

Practice, again
Your happy smile
We can pause here for a while
For a while

What if we talked
After my lunch
It's ok to be nervous
Just don't think too much
Take my hand
My you sweat
All those pick-up lines
Better to forget

Onii-chan, I command
Please don't cry like that ever again
I'm supposed to be the one getting hugs
Please, onii-chan, could you find your love

There she is
Like we practiced
I know you'll do fine
Tell me how it all went
After school tonight

Onii-chan, I command
Please don't cry like that ever again
I'm supposed to be the one getting hugs
Please, onii-chan, could you find your love
External links
Edit
| | |
| --- | --- |
| | Lyrics |
| | |
| --- | --- |
| | Articles |