Ad blocker interference detected!
Wikia is a free-to-use site that makes money from advertising. We have a modified experience for viewers using ad blockers

Wikia is not accessible if you've made further modifications. Remove the custom ad blocker rule(s) and the page will load as expected.
This song article is lacking a proper background. You can help by adding one! The relevant section in the Song Article Guideline is a good starting point, and this blog post may also be helpful. We apologize for the inconvenience this may cause in the meantime.

Song pages lacking proper backgrounds are automatically sorted into this category.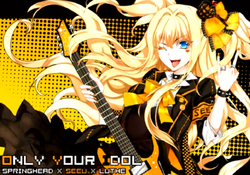 Song title
"Only your Idol"
Uploaded October 30, 2013, with 2,050+ views
Singer(s)
SeeU
Producer(s)
Springhead (music, lyrics)
Luthe (illust)
Suya (movie)
Links
YouTube Broadcast
Background
Edit
"Only your Idol" is an original Korean VOCALOID song feauturing SeeU. It was one of the last written by Springhead, before he became inactive within the VOCALOID fandom.
Korean (한국어 가사)
Romaja (로마자)
좀 더 뛰어봐
jom deo ttwieobwa
좀 더 소리쳐
jom deo sorichyeo
너를 위한
neoreul wihan
내 노래에 빠져들어
nae noraee ppajyeodeuleo
좀 더 미쳐봐
jom deo michyeobwa
좀 더 흔들어
jom deo heundeuleo
지금 순간을 즐겨봐
jigeum sunganeul jeulgyeobwa


방구섹에 박혀있지 말고
banggusege bakhyeoitji malgo
지금당장 나와 모두 함께해봐
jigeumdangjang nawa modu hamkkehaebwa
자신을 가져봐 지금은
jasineul gajyeobwa jigeumeun
너만을 위한 공간속에 빠져봐
neomaneul wihan gonggansoge ppajyeobwa


좀 못생겼어도
jom motsaenggyeosseodo
옷 좀못입어도
ot jommosipeodo
내게는 상관없어
naegeneun sanggwaneopseo
그딴것들은
geuttangeotdeuleun
중요하지 않아 지금은
jungyohaji anha jigeumeun
너만을 위하는 내가 있잖아
neomaneul wihaneun naega itjanha


모두 함께 흔들어 미치도록
modu hamkke heundeul-eo michidorok
노래하고 모든것을 잊는거야
noraehago modeungeos-eul ijneungeo-ya
우울해 할 틈 따위는 없애버리고
uulhae hal teum tta-wineun eopsaebeorigo
모두 다 같이 질러봐
modu da gati jilleobwa
언제나 축 처진 내 자신을
eonjena chuk cheojin nae jasineul
떨쳐내고 어깰펴고 고갤들어
tteolchyeonaego eokkaelpyeogo gogaeldeuleo
너를 위해 노래하며 나 웃어줄께
neoreul wihae noraehamyeo na useojulkke


I'm Only your Idol
I'm Only your Idol


아 -! 세상이 뒤집혀도 -!
ah -! sesangi dwijiphyeodo -!
멈추지 않을거야 -!
meomchuji anjeulgeoya -!
내 노래는 영원히 간다
nae noraeneun yeongweonhi ganda
Only your Idol Only your Idol
Only your Idol Only your Idol
Only your Idol Only your Idol
Only your Idol Only your Idol


좀 못생겼어도
jom motsaenggyeosseodo
옷 좀 못입어도
ot jom mosipeodo
내게는 상관없어
naegeneun sanggwaneopseo
그딴것들은
geuttangeotdeuleun
중요하지않아 지금은
jungyohajianha jigeumeun
너만을 위하는 내가 있잖아
neomaneul wihaneun naega itjanha


모두 함께 흔들어 미치도록
modu hamkke heundeuleo michidorok
노래하고 모든것을 잊는거야
noraehago modeungeoseul ijneun-geo-ya
우울해 할 틈 따위는 없애버리고
uulhae hal teum ttawineun eopsaebeorigo
모두 다 같이 질러봐
modu da gati jilleobwa
언제나 축 처진 내 자신을
eonjena chuk cheojin nae jasineul
떨쳐내고 어깰펴고 고갤들어
tteolchyeonaego eokkaelpyeogo gogaeldeuleo
너를 위해 노래하며 나 웃어줄께
neoreul wihae noraehamyeo na useojulkke


I'm Only your Idol
I'm Only your Idol


자본주의 외모주의
jabonjuui wimojuui
명품만세 다 집어 치워
myeongpummanse da jipeo chiweo
그딴건 다 그냥 쓰레기야
geuttangeon da genyang sseuregiya
있는 힘껏 손 들고
inneun himkkeot son deulgo
Best of Best Visual King
Best of Best Visual King
있는 힘껏 손 들고
inneun himkkeot son deulgo
Jump and Shout and shake
Jump and Shout and shake
External links
Edit
| | |
| --- | --- |
| | Lyrics |