This song article is lacking a proper background. You can help by adding one! The relevant section in the Song Article Guideline is a good starting point, and this blog post may also be helpful. We apologize for the inconvenience this may cause in the meantime.

Song pages lacking proper backgrounds are automatically sorted into this category.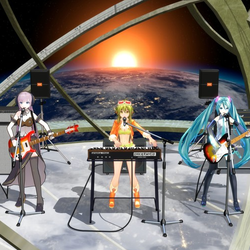 Song title
"Our World"
Uploaded November 25, 2015, with 197+ (NND), 225+ (YT), 26+ (SC) views
Singer(s)
Megurine Luka, GUMI, Hatsune Miku, AVANNA
Producer(s)
Dirty Egg (music, lyrics, tuning)
RaimugurinP (lyrics, tuning)
LimegreenP (GUMI's track)
Links
Niconico Broadcast • YouTube Broadcast
SoundCloud Broadcast

Background
Edit
| | | |
| --- | --- | --- |
| " | He corrected my English lyrics and made the vocal tracks of Megpoid. This song could not have been made without his support. I got the idea of this song when he told me that he was willing to help Japanese Vocaloid producers write English lyrics, so I decided to dedicate this song to him. I hope more Japanese people will start to create songs with LimeGreenP! | " |
"Our World" is an original song by Dirty Egg and LimegreenP featuring Megurine Luka, GUMI, Hatsune Miku and AVANNA.
There used to be a winding road
that brought me to the wonderland.
It vanished away long ago
as my dream got buried deep in the sand.

But I feel the land is still there.
Sometimes I have a glimpse of it when I'm with you.
There's something magic we can share.
You have the power to turn anything into the truth.

There used to be a song of love (Song of love, ah)
that filled the world with strawberry tones. (Strawberry tones)
I still hear the sound from above, (From above, ah)
baby, when you tell me I'm no longer alone. (No longer alone)

The worlds we lived in never seemed to meet. (Ah, ah, ah)
Now we have the same one at our feet. (Ah, ah, ah, ah)
Let's show what we can do with each other. (Ah, ah, ah, ah)
I feel I can sing when we're together. (Ah)

We'll see the dawn of a brand-new sound
(Lan la, lan la, lan la, lan la)
(Lan la, lan la, lan la, lan la, ah ah)
as our world goes round.
(As our world goes round)
We'll fly and draw a rainbow
(Lan la, lan la, lan la, lan la)
(Lan la, lan la, lan la, lan la, ah ah)
in the blue sky.
(In the blue sky)

Ahhhhhhhhhh!

The worlds we lived in never seemed to meet. (Ah, ah, ah)
Now we have the same one at our feet. (Ah, ah, ah, ah)
Let's show what we can do with each other. (Ah, ah, ah, ah)
I feel I can sing when we're together. (Ah)

We'll see the dawn of a brand-new sound
(Lan la, lan la, lan la, lan la)
(Lan la, lan la, lan la, lan la, ah ah)
as our world goes round.
(As our world goes round)
We'll fly and draw a rainbow
(Lan la, lan la, lan la, lan la)
(Lan la, lan la, lan la, lan la, ah ah)
in the blue sky.
(In the blue sky)

We'll see the dawn of a brand-new sound
(Lan la, lan la, lan la, lan la)
(Lan la, lan la, lan la, lan la, ah ah)
as our world goes round.
(As our world goes round)
We'll fly and draw a rainbow
(Lan la, lan la, lan la, lan la)
(Lan la, lan la, lan la, lan la, ah ah)
in the blue sky.
(In the blue sky)
External links
Edit
| | |
| --- | --- |
| | Articles |
| | |
| --- | --- |
| | Lyrics |