This song article is lacking a proper background. You can help by adding one! The relevant section in the Song Article Guideline is a good starting point, and this blog post may also be helpful. We apologize for the inconvenience this may cause in the meantime.

Song pages lacking proper backgrounds are automatically sorted into this category.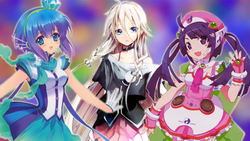 Song title
"overdrive"
Uploaded April 18, 2012, with 690+ (NND), 720+ (YT) views
Singer(s)
Aoki Lapis, IA, Tone Rion
Producer(s)
Hiro (music, lyrics, arrangements)
CARNELIAN (Lapis' illustration)
Akasaka Aka (IA's illustration)
Akio Watanabe (Rion's illustration)
Links
Niconico Broadcast • YouTube Broadcast

Background
Edit
"overdrive" is an original song by Hiro featuring Aoki Lapis, IA, and Tone Rion.
Japanese (日本語歌詞)
Romaji (ローマ字)
重たい鞄を抱えて歩く毎日
omotai kaban wo kakaete aruku mainichi
ときどき自分が嫌になったりもするけど
tokidoki jibun ga iya ni nattari mo suru kedo


退屈な日々の中に隠れている
taikutsu na hibi no naka ni kakurete iru
ときめき見つけよう ほらどこにだってあるさ
tokimeki mitsukeyou hora doko ni datte aru sa


捨ててきてしまった大切なものは
sutete kite shimatta taisetsu na mono wa
もう戻っては来ないけれど
mou modotte wa konai keredo


let's go into overdrive 始めよう
let's go into overdrive hajimeyou
準備なんて何もいらないさ
junbi nante nani mo iranai sa
let's jump into a new world 飛び込もう
let's jump into a new world tobikomou
これから創り出す世界へ
korekara tsukuridasu sekai e
External links
Edit
| | |
| --- | --- |
| | Lyrics |
Ad blocker interference detected!
Wikia is a free-to-use site that makes money from advertising. We have a modified experience for viewers using ad blockers

Wikia is not accessible if you've made further modifications. Remove the custom ad blocker rule(s) and the page will load as expected.