Ad blocker interference detected!
Wikia is a free-to-use site that makes money from advertising. We have a modified experience for viewers using ad blockers

Wikia is not accessible if you've made further modifications. Remove the custom ad blocker rule(s) and the page will load as expected.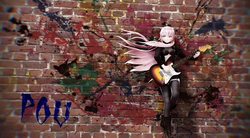 Song title
"POV"
Uploaded October 10, 2015, with 400+ views
Singer(s)
Megurine Luka
Producer(s)
Flanger Moose (music, lyrics)
JanAnimeFreak (cover image)
Links
YouTube Broadcast
Background
Edit
"
Self-worth should never come from an outside point of view."
"
 

— Anonymous
"POV" is an original Megurine Luka song. A song that challenges the listener to think about things from their own point of view, from within, and to make sure they take care about what they're doing and who they are on the inside instead of judging who and what they see on the outside.
The boy can't face his father who's labelled him a disgrace.
The girl can't face the mirror, unsatisfied with her shape.

You can try to play it cool, you can let them write the rules
But society's guidelines are insecure lifelines

It's not in the reflection,
Not in anybody else's eyes
It's not in the perception,
Not in the words that criticize,
It's in the moment,
It's in what you give.
It's in the action,
Who you are is how you live

I got the...
Wrong job, wrong lover,
I'm the...
Wrong size, wrong color,
Got the...
Wrong style, wrong taste,
(It's just a waste of time)

You can try to play it cool, you can let them write the rules
But society's guidelines are insecure lifelines

It's not in the reflection,
Not in anybody else's eyes
It's not in the perception,
Not in the words that criticize,
It's in the moment,
It's in what you give.
It's in the action,
Who you are is how you live

Criticize me,
Ostrasize me,
Dehuminze me...

Criticize me,
Ostrasize me,
Dehuminze me...

Criticize me,
Ostrasize me,
Dehuminze me
You can't control me...

It's not in the reflection,
Not in anybody else's eyes
It's not in the perception,
Not in the words that criticize,
It's in the moment,
It's in what you give.
It's in the action,
Who you are is how you live