Ad blocker interference detected!
Wikia is a free-to-use site that makes money from advertising. We have a modified experience for viewers using ad blockers

Wikia is not accessible if you've made further modifications. Remove the custom ad blocker rule(s) and the page will load as expected.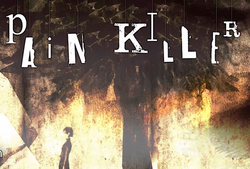 Song title
"Pain Killer"
Uploaded November 12, 2013, with 21,000+ views
Singer(s)
SeeU
Producer(s)
Dr. Yun (music, lyrics)
Kuma (illust)
Links
YouTube Broadcast
Background
Edit
"Pain Killer" is one of original SeeU songs created by Dr. Yun. It was also made as a promo song for the 2014 SeeU concert, The First or the Last. The concert was held on May 24, 2014.
Korean (한국어 가사)
Romaja (로마자)
벼랑 끝에 서서
byeorang kkeute seoseo
뒤를 돌아보면
dwireul dorabomyeon
상처 뿐인 나의
sangcheo ppunin naui
삶이 비춰진다
salmi bichwojinda
후회하고 있나
huhoehago inna
다시 생각하면
dasi saenggakhamyeon
착각 뿐인 나의
chakgak ppunin naui
삶이 비춰진다
salmi bichwojinda
아픔 속에서 찾고 있었던
apeum sogeseo chatgo isseotdeon
작은 조각을 삼켜버렸다
jageun jogageul samkyeobeoryeotda


사랑해 왔던 시간들 모두 사라져
saranghae watdeon sigandeul modu sarajyeo
기억해 왔던 추억들 모두 잊혀지리
gieokhae watdeon chueokdeul modu ichyeojiri
아픈 상처들은 모두 지워줘
apeun sangcheodeureun modu jiwojwo
아무 생각조차 나지 않게
amu saenggakjocha naji anke
슬픈 기억들은 모두 지워줘
seulpeun gieokdeureun modu jiwojwo
작은 눈물조차 남지 않게
jageun nunmuljocha namji anke


사진 속에 남긴
sajin soge namgin
너를 바라보면
neoreul barabomyeon
한숨 뿐인 나의
hansum pun-in naui
삶이 비춰진다
salmi bichwojinda
망설이고 있나
mangseorigo inna
다시 바라보면
dasi barabomyeon
눈물 뿐인 나의
nunmul ppunin naui
삶이 비춰진다
salmi bichwojinda


사랑해 왔던 시간들 모두 사라져
saranghae watdeon sigandeul modu sarajyeo
기억해 왔던 추억들 모두 잊혀지리
gieokhae watdeon chueokdeul modu ichyeojiri
아픈 상처들은 모두 지워줘
apeun sangcheodeureun modu jiwojwo
아무 생각조차 나지 않게
amu saenggakjocha naji anke
슬픈 기억들은 모두 지워줘
seulpeun gieokdeureun modu jiwojwo
작은 눈물조차 나지 않게
jageun nunmuljocha naji anke


슬픔 속에서 찾고 있었던
seulpeum sogeseo chatgo isseotdeon
작은 조각을 삼켜버렸다
jageun jogageul samkyeobeoryeotda


사랑해 왔던 시간들 모두 사라져
saranghae watdeon sigandeul modu sarajyeo
기억해 왔던 추억들 모두 잊혀지리
gieokhae watdeon chueokdeul modu ichyeojiri
사라져가
sarajyeoga
모든 기억이
modeun gieogi
아아......
aa......
모든 추억이
modeun chueogi
External links
Edit
| | |
| --- | --- |
| | Lyrics |