This song article is lacking a proper background. You can help by adding one! The relevant section in the Song Article Guideline is a good starting point, and this blog post may also be helpful. We apologize for the inconvenience this may cause in the meantime.

Song pages lacking proper backgrounds are automatically sorted into this category.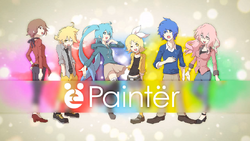 Song title
"Paintër"
Uploaded October 18, 2015, with 300,250+ (NND) / 235,510+ (YT) views
Singer(s)
MEIKO, KAITO, Hatsune Miku, Kagamine Rin, Kagamine Len, Megurine Luka
Producer(s)
halyosy (music, lyrics, arrangement)
Rio.T (electric guitar)
JimuinG (piano)
mao (bass)
いぶくろ聖志 (koto)
Teppei Sensei (violin)
Yusa (violin)
Gogatsubyou Mario (illustration)
Goodman (movie)
Links
Niconico Broadcast • YouTube Broadcast

Background
Edit
"Paintër" was uploaded to both Niconico Douga and YouTube on October 18, 2015, along with an utaite version. It has entered the Hall of Fame and has reached over 100,000 views on YouTube.
Succeeding versions
Edit
Sound Only ver.
Nico Chorus

| | |
| --- | --- |
| Featuring | Tourai, Gogatsubyou Mario, halyosy, Seramikaru, Kettaro, Suzuhana Yuuko, Dogma Kazami, Kousuke, Alfakyun, Ikasan, Pokota, Shirofuku, Ry☆, Hanatan, koma'n |
| Author(s) | halyosy |
| Category | Nico Chorus, Human cover |
Singer

MEIKO

KAITO

Miku

Chorus

Rin

Len

Luka
Japanese (日本語歌詞)
Romaji (ローマ字)
描け!

筆が動く限り

egake!

fude ga ugoku kagiri

描け!

色が続く限り

egake!

iro ga tsuzuku kagiri




「何を描いても良い」と授けてくれた

"nani o kaite mo ii" to sazukete kureta

沢山の絵の具と真っ白なキャンバス

takusan no enogu to masshirona kyanbasu

透明な心で握りしめた筆

toumeina kokoro de nigirishimeta fude

目に映る全て鮮やかに見えた……のに

me ni utsuru subete azayaka ni mieta…… noni




歳と共に埋もれてく線画

toshi totomoni umoreteku senga

七十億色が擦った揉んだ

nanajuu okushoku ga kosutta monda

自分らしさ模索して地団駄
jibun rashi sa mosaku shite jidanda
Oh oh oh oh oh oh oh

描き方は誰も教えちゃくれない

kaki kata wa dare mo oshiecha kurenai

なのに好きなようにさせてくれない

na noni sukina youni sasete kurenai

訳も分からず重ね濁ってく
wake mo wakarazu kasane nigotteku
Oh oh oh oh oh oh oh



ちょっと周りを見渡せば

chotto mawari o miwataseba

寝る間も惜しみ袖汚しっぱなし

neru ma mo oshimi sode yogoshippanashi

明日を目指して灯した闘志

ashita o mezashite tomoshita toushi

みんな同じなんだ!

minna onaji nan da!



Imagine the new world
Imagine the future

その手で何もかも塗り潰せ

sono te de nanimokamo nuritsubuse



Imagine the new world
Imagine the future

誰だって譲れない夢がある

dare datte yuzurenai yume ga aru

描け! 筆が動く限り
egake! fude ga ugoku kagiri
描け! 色が続く限り
egake! iro ga tsuzuku kagiri



押入れの奥に眠らせたノート

oshiire no oku ni nemuraseta nooto

答えを求めて磨り減ったエンピツ

kotae o motomete suri hetta enpitsu

描きかけのスケッチ忘れたフリして

gaki kake no sukecchi wasureta furi shite

毎日がむしゃら挫けずに来れた……のに

mainichi gamushara kujikezu ni koreta…… noni




"大人になるのが何故悪いんだ"

"otona ni naru no ga naze waruin da"

"理想だけじゃ食っていけないんだ"

"risou dake ja kutte ikenain da"

塗り固めた嘘が綻んだ
nuri katameta uso ga hokoron da
Oh oh oh oh oh oh oh

人生はアンドゥーで取り消せない

jinsei wa anduu de torikesenai

ましてリドゥーでやり直せもしない

mashite riduu de yarinaose mo shinai

一筆書きの道が滲んでく
hitofude gaki no michi ga nijinde ku
Oh oh oh oh oh oh oh



ちょっと後ろ振り向けば

chotto ushiro furimukeba

デッサンもパースも拙くても

dessan mo paasu mo tsutanakute mo

純粋に描き殴ってたあの頃

junsui ni kaki nagutteta ano koro

なんて自由なんだ!

nante jiyuu nan da!



Imagine the new world
Imagine the future

それぞれの絵の具をぶち撒けろ

sorezore no enogu o buchi makero



Imagine the new world
Imagine the future

ひとりでは見れない夢がある

hitori de wa mirenai yume ga aru

描け! 筆が動く限り
egake! fude ga ugoku kagiri
描け! 色が続く限り
egake! iro ga tsuzuku kagiri


Hey! Ladies & gentlemen, boys & girls
ココは何でもアリな展覧会
koko wa nani demo arina tenrankai
Look at this

空飛ぶ魚!

Look at this

sora tobu sakana!

Look at this

真冬の向日葵!

Look at this

mafuyu no himawari!

Look at this

西から昇る太陽!

Look at this

nishi kara noboru taiyou!

教科書が正しいとは限らない
kyoukasho ga tadashii to wa kagiranai



RED

赤はススメ?!

RED

aka wa susume?!

BLUE

青はトマレ?!

BLUE

ao wa tomare?!

YELLOW

あ、え、黄色はどっちでも…

YELLOW

a, e, kiiro wa docchi demo…

感じたままに意味を選べば良い
kanjita mama ni imi o erabeba ii



芸術は爆発した跡の後付けだ

geijutsu wa bakuhatsu shita ato no atozuke da

カリカリひっかいて

ペタペタくっつけて

karikari hikkaite

petapeta kuttsukete

ゴシゴシこすって

クシャクシャまるめて

goshigoshi kosutte

kushakusha marumete

それでもなお残ったモノこそが

soredemo nao nokotta mono koso ga

この世で自分だけの色なんだ!

kono yo de jibun dake no iro nan da!



Imagine the new world
Imagine the future

その手で何もかも塗り潰せ

sono te de nanimokamo nuritsubuse



Imagine the new world
Imagine the future

誰だって譲れない夢がある

dare datte yuzurenai yume ga aru




街行く人も

籠もる住人も

machi yuku hito mo

komoru juunin mo

殿も民も君も僕も

百人百様

dono mo tami mo kimi mo boku mo

hyakunin hyakuyou

こんな風に集まって

遠くから眺めれば

konna fuu ni atsumatte

tooku kara nagamereba

おっきくて

カラフルな

夢(え)になるんだ!

okkikute

karafuruna

e ni narun da!


Imagine the new world
Imagine the future

それぞれの絵の具をぶち撒けろ

sorezore no enogu o buchi makero



Imagine the new world
Imagine the future

ひとりでは見れない夢がある

hitori de wa mirenai yume ga aru

描け! 筆が動く限り
egake! fude ga ugoku kagiri
描け! 色が続く限り
egake! iro ga tsuzuku kagiri


描け! 筆が動く限り
egake! fude ga ugoku kagiri
描け! 色が続く限り
egake! iro ga tsuzuku kagiri



塗り潰し終えた鮮やかなキャンバス

nuritsubushi oeta azayakana kyanbasu

次はどんな絵をみんなと描けるのかな

tsugi wa donna e o minna to egakeru no kana
Derivatives
Edit
Portuguese Chorus

| | |
| --- | --- |
| Featuring | Kai, Vitor, Sayuri, Nato, Myio, Mai, Luciano, Junior, Jun, João Barros, Howl, Gabriel, Fábio, Antonio, , André, Alex |
| Author(s) | Kai (Portuguese translyrics, video, mix), Mah (illustration) |
| Category | Chorus, Human cover |
External links
Edit
| | |
| --- | --- |
| | Articles |
| | |
| --- | --- |
| | Lyrics |
| | |
| --- | --- |
| | Downloads |