This song article is lacking a proper background. You can help by adding one! The relevant section in the Song Article Guideline is a good starting point, and this blog post may also be helpful. We apologize for the inconvenience this may cause in the meantime.

Song pages lacking proper backgrounds are automatically sorted into this category.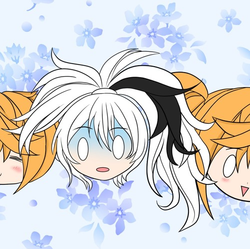 Song title
"Parisuhdeterapiaa"
English: Marital Therapy
Uploaded September 10, 2015, with 420+ (SC), 160+ (YT) views
Singer(s)
anon, kanon, flower
Producer(s)
SHOCKING★TRUTH:
Kohi Sensei (music, lyrics, tuning, illust, arrangement)
kevinlyspirit (mixing)
Links
YouTube Broadcast (official)
SoundCloud Broadcast

Background
Edit
"Parisuhdeterapiaa" is an original song by Kohi Sensei featuring anon, kanon and flower.
Finnish
English (official)
Vuoristorata voi elämä olla
Life can be a rollercoaster
sitä ei aina kestä polla
sometimes it's hard to take on
Jarruja ei koskaan löydy
There's never brakes
kun niitä tarvitsee
when you need them
Nousun jalkeen tulee aina pudotus
After a rise there's always the fall
jonne uppoaa
to submerge into


Olemmeko pelkkää usvaa, onko meissä syvyyttä
Are we just the fog
Harhailemmeko pimeässä iltasumussa.
wandering in the dusk haze
Se muodostaa pisaroita, vasten poskiamme
It accumulates drops against our cheeks
Olemme onttoja ja liki toisiamme
We are hollow carcasses next to each other


Voi täälla olla nykyään liian vähän taikaa
It could be that there's not enough magic now
(Liian vähän taikaa, Kellään ei oo aikaa)
(Not enough magic, nobody's emphatic)
Ei muualla kuin kapakoissa tänäänkään ilo raikaa
Nowhere outside taverns can you hear happy laughter
(laulu raikaa)
(happy laughter)


Parisuhdeterapiaa tämä maailma
Marital Therapy is what this world needs
kaipaa mutta kellään ei ole aikaa
But nobody has time for that
Parisuhdeterapiaa-
Marital Therapy-
Parisuhdeterapiaa-
Marital Therapy-


Ollaan vaan ja istutaan ihmetellään maailman menoa
Take a break and sit down. Take a look at the world's business
Vaan katsellaan josko voitit lotossa
wonder if you won the lottery


Kun rakkaus saapui kaupunkiin
When the love came into the city
se liikkui niin kuin tuuli
roaming like a wind
tuskiin kukaan kiireiltään
I doubt one person
sitä edes kuuli
rose his head from his schedules


Parisuhdeterapiaa tämä maailma
Marital Therapy is what this world needs
kaipaa mutta kellään ei ole aikaa
But nobody has time for that
Parisuhdeterapiaa-
Marital Therapy-
Parisuhdeterapiaa
Marital Therapy
External links
Edit
| | |
| --- | --- |
| | Articles |
| | |
| --- | --- |
| | Lyrics |