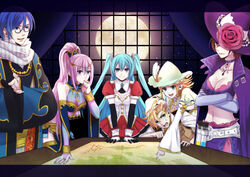 Song title
"Party×Party"
Uploaded April 15, 2014, with 540,000+ (NND) & 910,000+ (YT) views
Singer(s)
Hatsune Miku, Kagamine Rin, Kagamine Len, Megurine Luka, MEIKO and KAITO
Producer(s)
Hitoshizuku-P×Yama△ (music, lyrics)
Suzunosuke (illust)
TSO, VAVA (video)
Links
Niconico Broadcast • YouTube Broadcast
YouTube Broadcast (subbed)

Background
Edit
"Party x Party" is an original VOCALOID song featuring all of Crypton Future Media's Character Vocals. The song tells of a girl who does not wish to be alone one night and decides to go on a quest to "have the party of her dreams". On her path she encounters a bard (Rin) and a gunner (Len). They then head together to the NicoNico Pub, where they meet the merchant (KAITO), the dancer (Luka), and the bartender (MEIKO). The six of them then decide to head out in the morning after a chaotic night to embark on their own quests. They hit numerous bumps in the road, but the group travels on, determined to finish their quest. The party happens upon the final boss' chamber, just to find out that the rookie (Miku) was the villain all along. However, the six of them put aside alignment differences to throw the ultimate party.
The title, Party x Party, is most likely a pun on meaning: the party, or group of fighters, go forth on a quest for the ultimate party. This can further be supported by the fact that the music video's graphics are akin to the interface of a role-playing game (RPG).
The song was released as a theme song for NicoNico Cho-Party 3, and has entered the Hall of Fame.
Singer + Color
Miku
Rin
KAITO
Chorus
Len
Luka
MEIKO
Japanese (日本語歌詞)
Romaji (ローマ字)

月明かりが怪しく誘う夜 こんな夜に おひとりぼっちは嫌!

tsukiakari ga ayashiku sasou yoru konna yoru ni o-hitori-bocchi wa iya!

夢のように楽しいパーティーがしたいの

yume no you ni tanoshii paatii ga shitai no

思い立ったが吉日! さっそく旅に出ましょう♪

omoitatta ga kichijitsu! sassoku tabi ni demashou ♪




ガンナー「そこ行くのは、初心者マークのお嬢さん?」

gannaa: "soko iku no wa, shoshinsha maaku no ojousan?"

初心者「何かしら~?

shoshinsha: "nan kashira~?"

吟遊詩人「こんな夜にお一人でどこ行くのですか?」

ginyuushijin: "konna yoru ni o-hitori de doko iku no desu ka?"

初心者「パーティーへ!

shoshinsha: "paatii e!"

ガンナー「おや、奇遇だね!僕らも旅の途中さ

ganna: "oya, kiguu da ne! bokura mo tabi no tochuu sa"

初心者「あら、偶然♪」

shoshinsha: "ara, guuzen ♪"

吟遊詩人「それじゃ一緒に行きましょ?最高のパーティーへ!」

ginyuushijin: "sore ja issho ni ikimasho? saikou no paatii e!"




バーテンダー「ニコニコ酒場では…」

baatendaa: "niconico sakaba dewa..."

商人「楽しい奴らが…」

shounin: "tanoshii yatsura ga..."

踊り子「最高のパーティーを…」

odoriko: "saikou no paatii o..."

「「探してる!」」
""sagashiteru!""


行くぜ!仲間を求め Party×Party
iku ze! nakama o motome Party×Party
騒ぎたい奴は誰でも歓迎! 挨拶代わりは拳で…?
sawagitai yatsu wa dare demo kangei! aisatsu kawari wa kobushi de...?
ちょっとだけなら…? OK!暴れろー!
chotto dake nara...? OK! abareroo!


ねえ、入れてよ?おいでよ!Party×Party
nee, irete yo? oide yo! Party×Party
歌えや踊れ!皆様一緒に! あいつもこいつもお仲間
utae ya odore! minasama issho ni! aitsu mo koitsu mo o-nakama
今夜カオスな宴を楽しめ♪
konya kaosu na utage o tanoshime ♪



「踊り子「集まったのは、なんとも個性的なパーティー」

odoriko: "atsumatta no wa, nantomo koseiteki na paatii"

バーテンダー「本当にね~」

baatendaa: "hontou ni ne~"

「「初心者に…、

ガンナー、

踊り子、

詩人、

バーテンダー!」」

""shoshinsha ni...

gannaa,

odoriko,

shijin,

baatendaa!""

商人「…商人もいるよー?!」

shounin: "...shounin mo iru yoo?!"




ガンナー「…それじゃ、さっそく冒険の旅に出かけよう!」

gannaa: "...sore ja, sassoku bouken no tabi ni dekakeyou!"

吟遊詩人「OK!Let's Go!」

ginyuushijin: "OK! Let's Go!"

初心者「ちょっと、不安…だけど、きっと!」

shoshinsha: "chotto, fuan... dakedo, kitto!"

商人「最高のパーティーさ!」

shounin: "saikou no paatii sa!"



幻の遺跡に 怪しげなダンジョン 東へ西へと突き進め!
maboroshi no iseki ni, ayashige na dangyon higashi e nishi e to tsukisusume!


行くぜ!刺激を求め Hurry×Hurry
iku ze! shigeki o motome Hurry×Hurry
楽しい旅は危険がいっぱい! ほどよくレベルを稼いで♪
tanoshii tabi wa kiken ga ippai! hodoyoku reberu o kaseide ♪
おっと!どうやらピンチだ! たすけてー!?
otto! douyara pinchi da! tasuketee!?


ねえ、あっちへ、こっちへ! どっちー?…そっち?!
nee, acchi e, kocchi e! docchii? ...socchi?!
迷わず進め、どんどん先まで! 大冒険のフィナーレは
mayowazu susume, dondon saki made! daibouken no finaare wa
きっと素敵な宴さ 楽しみー♪
kitto suteki na utage sa tanoshimii ♪



「初心者「点呼をとりまっーす!」

shoshinsha: "tenko o torimaasu!"

「「はーーーい!」」
""haaaai!""

1、

2、

3、

4、

5、

6!

「「ぜんいーん!」」

ichi,

ni,

san,

shi,

go,

roku!

""zeniin!""


「「詩人!」」

歌って~!

""shijin!""

utatte~!

「「踊り子!」」

踊りましょう?

""odoriko!""

odorimashou?

「「商人!」」

銭のことなら、まかせろ!

""shounin!""

zeni no koto nara, makasero!

「「バーテンダー!」」

仕込みはOK!

""baatendaa!""

shikomi wa OK!

「「ガンナー」」

打ち方、用意!

""gannaa""

uchikata, youi!

初心者「さあ、まだまだいくよー?」

shoshinsha: "saa, madamada iku yoo?"

「「盛り上げろー!」」
""moriageroo!"


冒険の旅路も いよいよフィナーレ!
bouken no tabiji mo iyoiyo finaare!
ファイナルステージ(魔王城)に乗り込むぜー?
fainaru suteeji ni norikomu zee?

バーテンダー「突撃ーーーーー!!」

baatendaa: "totsugekiiiiii!!"



行くぜ!お祭り!騒げ Party×Party
iku ze! o-matsuri! sawage Party×Party
強者どもが暴れに来ました! 挨拶代わりは拳で…?
tsuwamono-domo ga abare ni kimashita! aisatsu kawari wa kobushi de...?
派手にいきましょ?OK! 暴れろー!
hade ni ikimasho? OK! abareroo!


ねえ、魔王(主役)はどこだい? hurry×hurry
nee, shuyaku wa doko dai? hurry x hurry
あれれれー? ちょっと物足りないぞー?
arereree? chotto monotarinai zoo?

魔王「ようやく出番ね、お待たせ!」

youyaku deban ne, o-matase!-

「「え?!」」
""e?!""

魔王「それじゃここから本番!超パーティー♪♪」

maou: "sore ja koko kara honban! chou paatii ♪♪"



今夜 仲間よ、集え!Hurry×Hurry 騒ぎたいやつは…
konya nakama yo, tsudoe! Hurry×Hurry sawagitai yatsu wa...

魔王「この指止まれー!」

maou: "kono yubi tomaree!"

全然…?まだまだ? 生温いっ!
zenzen...? madamada? namanurui!
もっと本気でいきましょ?! Are you ready? Go!!
motto honki de ikimasho?! Are you ready? Go!!


入れてよ?おいでよ!Party×Party 歌えや踊れ!皆様一緒に!
irete yo? oide yo! Party×Party utae ya odore! minasama issho ni!
あいつ(魔王)もこいつ(勇者)もお仲間!?
aitsu mo koitsu mo o-nakama!?
今夜カオスな宴を楽しめ♪
konya kaosu na utage o tanoshime ♪



魔王「散々騒いで疲れたー?……ふぅ」

maou: "sanzan sawaide tsukaretaa? ...fuu"

それじゃ 朝まで良い夢、見なさい♪
sore ja asa made ii yume, minasai ♪
External links
Edit
| | |
| --- | --- |
| | Official |
| | |
| --- | --- |
| | Articles |
| | |
| --- | --- |
| | Downloads |
| | |
| --- | --- |
| | Lyrics |