This song article is lacking a proper background. You can help by adding one! The relevant section in the Song Article Guideline is a good starting point, and this blog post may also be helpful. We apologize for the inconvenience this may cause in the meantime.

Song pages lacking proper backgrounds are automatically sorted into this category.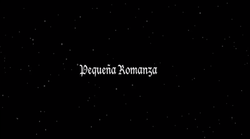 Song title
"Pequeña Romanza"
English: A little Romanza
Uploaded July 5, 2012, with 380+ views
Singer(s)
Mew
Camui Gackpo and Clara (chorus
Producer(s)
Rose Bleue (music, lyrics)
Links
YouTube Broadcast
Background
Edit
"
(Because there is not enough love in the internet to say how much I like Mew.)

"Pequeña Romanza" translates into "A little Romanza"

Special thanks to Rensfurioku for the instrumental idea and LauraMegurine for letting me use her computer programs all the time. And also Bakyaan, because he gives the best AfterEffect tips in the whole world. I love you all so much :)

"
"Pequeña Romanza" is an original song by Rose Bleue featuring Mew along with Camui Gackpo and Clara in the chorus.
En el verano en que nos cocimos
Caía nieve en mí corazón
Pasa el tiempo, las estaciones
Todos cambian, pero no yo.


Grano en planta, agua en nieve
La semilla torna en flor.
Todos nacen, todos mueren
Todo gira en derredor


"Amada mía, se acerca el invierno en este verano abrasador"
Tú me sonríes, te alejas.
Cae nieve en mi corazón.


La lluvia es hielo.
Todos cambian menos yo.
External links
Edit
| | |
| --- | --- |
| | Lyrics |
Ad blocker interference detected!
Wikia is a free-to-use site that makes money from advertising. We have a modified experience for viewers using ad blockers

Wikia is not accessible if you've made further modifications. Remove the custom ad blocker rule(s) and the page will load as expected.