Warning: This video contains strobe effects!

This can include flashing imagery, fast edits, and bright colors, so people with photosensitive epilepsy should refrain from watching it.
If so, do so at your own risk. Articles with this tag are automatically sorted into this category.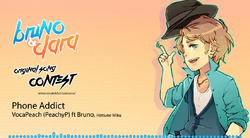 Song title
"Phone Addict"
Uploaded Bruno's October 3, 2014, with 440+ views
Uploaded AVANNA's October 19, 2014 with 200+ views
Singer(s)
Bruno (original)
AVANNA (covered)
Producer(s)
Voca Peach (music, lyrics, tuning)
RCStudio (mastering)
Electric Mage (art)
Links
YouTube Broadcast (VOCALOID.cl upload)

Background
Edit
"
Here we have an individual with her phone and she is never off it. So much so it is like a drug to her.
"
 

— Author comments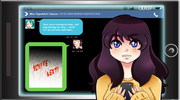 "Phone Addict" was an entry for the Bruno & Clara Original Song Contest hosted by VOCALOID.cl. It was judged as note-worthy, and was first sung by Bruno then later covered by AVANNA with an original PV featuring Hatsune Miku. The song is about a man who is glued to his phone, & is on it non-stop. He starts to pass out from playing on his phone too much.
During the PV there is an on going conversation between AVANNA and Miku that becomes rather violent. And at one point in the video there is a parody game of the viral hit "Flappy Bird" called "Flappy Miku" in the background.
Succeeding versions
Edit
AVANNA's cover

Featuring
AVANNA
Author(s)
Voca Peach
Category
Succeeding version

Description

Warning: This video contains strobe and pulse effects at 0:01, 3:00, and 3:56
How are you?
I am fantastic?
Gremlins hiding in my mind!
Speaker on let's have some fun?
Ripping out my eyes!

I am okay, are you alright?
Heavy Breathing all night!
Loosing control I black out and see white
is the color of my madness...

Scratching within me,
Is a force against me,
I cannot see through, this illusion.

Clouded by the darkest night,
Searching for your glowing light,
I am not afraid...
I am addicted to you x2

Hola, Buenos Noches!
I am a bag of Nightmares!
Trapped inside my innerself,
Screaming, lost in hell,

I am okay, are you alright?
Heavy Breathing all night!
Loosing control I black out and see white
is the color of my madness...

Clouded by the darkest night,
Searching for your glowing light,
I am not afraid...
I am addicted to you x2
External links
Edit
| | |
| --- | --- |
| | Articles |
| | |
| --- | --- |
| | Purchase |