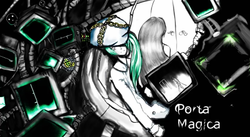 Song title
"Porta Magica"
English: "Magic Door"
Uploaded November 21, 2014, with 220+ views
Singer(s)
MAIKA
Hatsune Miku (chorus)
Producer(s)
Mi:Elen (music, lyrics, video, VSQx)
Links
YouTube Broadcast
Background
Edit
"
Okey, this was a lot of work for me.

The song is old and i worked first with IA as main Voice (2013). Never thought using Maika now as my main Vocaloid. I love her voice so much. I will use her Voice in my future Projects. Enjoy the song.

"
Porta Magica is an original song by Mi:Elen featuring MAIKA.
Ho aspetato tutti anni
Contanto il tempo
Che ho aspetato

Il tempo è venuto
Apriti
Porta Magica
Io non resisto più

Porta Magica
Apriti

Porta Magica
Apriti

Tutte le persone
Mi sgridano
Lanciano pietre
Mi sgridano

Tutte le persone
Mi abbandano
Mi sgridano
Mi comandano

Lo atraverso
La Porta
La voce
Del altro mondo
Poi noi vediamo
La linea del amore
Guida noi due
Tu mi proteggi
Con te voglio stare
Insieme in una gabbia
Noi due siamo insieme

No
No
Mai
Ad blocker interference detected!
Wikia is a free-to-use site that makes money from advertising. We have a modified experience for viewers using ad blockers

Wikia is not accessible if you've made further modifications. Remove the custom ad blocker rule(s) and the page will load as expected.