PowerFX Systems AB.

General information
Type
Public
Genre
Music and video
Foundation
1995
Founder
Key_people
Bil Bryant (Production and CEO)
Andreas Tyson (Production Manager)
Einar Andersson (Chief Technical Officer)
Location
Stockholm, Sweden
Area_served
Europe
Industry
Software, Internet
Products
Listed on Wikipedia
Services
Online shopping
Music education
Consumer generated media
Additional information
Vocaloid(s)
Sweet Ann
Big Al
Oliver
Website
http://powerfx.com/

PowerFX is a small recording company, based in Stockholm, Sweden. This company has been producing music samples, loops and sound effects since 1995.
They are the creators of vocaloid Sweet Ann and Big Al. They were first introduced to the software after the introduction of first Vocaloids from Zero-G at the NAMM trade show (Lola and Leon) and were later recommended to Yamaha by Crypton Future Media.
Originally they used an old 20th movie poster style of boxart for both Sweet Ann and Big-Al, but due to fan reaction later would switch Big-Al's artwork to a more western/anime style prior to his release. PowerFX's vocaloids are unique in that they are based on monsters of classic horror and science fiction (sometimes fans call their vocaloids "Monsteroids" / "Monsterloids"). After Big-Al's release they noted they intend to continue this for future vocaloids and were considering even producing a virtual boy band of vocaloids.[1]
According to Bil Bryant, they chose to do a monster morph-type character design from the beginning to create a character for fans to become familiar with the product, after noting that this is what fans prefer. They felt it was easier to recognize and sell however if they had a comic-esque character design heading the product. Not including a character alienates the product from the fandom.[2]
Voicebanks
Edit
Vocaloid2
Edit
Feminine;
English vocals
Masculine;
English vocals
Vocaloid3
Edit
Unreleased
Edit
Main article: Status
Masculine;
English/Jpn vocals
 ???;
English vocals
Current Voicebank projects
Edit
PowerFX are currently running tests with various vocalists for the next VocaTone project;
They have confirmed a vocaloid based on YOHIO with English/Japanese capabilities
PowerFX also have an American accented vocaloid (currently on hold until YOHIO's vocaloid is released).
Future Voicebank possibilities
Edit
Anders confirmed that if English Vocaloids become more popular, Zero-G and PowerFX will consider making Appends for their Vocaloids.
According to Anders, if there is demand updates for all past Zero-G and PowerFX Vocaloids to newer engines, it is a possibility. The major factor in this though is the workload needed and involvement in the process against the demand.
PowerFX have recently confirmed they want to do a V3 Sweet Ann, but due to focus on their soundation product, and pulling together money for update, they currently cannot produce this voicebank.
Promotional involvement
Edit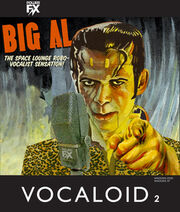 MusikMesse fair
Edit
The first song demo using Big-Al, "Make Me Feel", was prepared by Alexei Ustinov for the Frankfurt MusikMesse 2007 fair.
Sweet Ann was originally given a My Space page as part of promotion for her.
Sweet Ann boxart competition
Edit
After the much welcomed improved artwork of Big-Al, there were talks of a competition to design a new artwork for Sweet Ann.[3][4]
Fan feedback
Edit
They are also one of two studios that supports Vocaloid Otaku forums which they use for fan feed back the other studio being Zero-G.
YOHIO Vocaloid boxart competition
Edit
PowerFX will be holding a competition for the package design of their upcoming Vocaloid voiced by YOHIO. More details are to be announced.
References
Edit
External links
Edit