Prima was Zero-G's first Vocaloid2 product released January 14, 2008.
Prima has no character concept.
Vocaloid Releases
Edit
Etymology
Edit
The name "Prima" comes from the term "Prima Donna" meaning "first lady," which is an Italian term used to describe the female with the leading role in a theatrical and opera production and the one with the most talent, who was usually a soprano singer.
Examples of Usage
Edit
Prima singing in her raw state - no vocal editing (Vocaloid 2)
| | |
| --- | --- |
| | Before adding translated or subbed videos, please read this tutorial in order not to list gravely mistranslated ones. |
To our readers and editors, for section notes please read; Notes; Examples sections.
Interval of clouds 2010

Author(s):
Shu-tP
Category:
Cover song
Featuring:
Prima & Lola
 Youtube Broadcast    


Description

A cover song of Shu-tP's famous Miriam song "Interval of clouds" using Prima and Lola
Morning Light

Author(s):
Vortex11316
Category:
Original song
Featuring:
Prima
 Youtube Broadcast    

Main Town Domina

Author(s):
ケフィアP
Category:
Cover song
Featuring:
Prima
Nicovideo Broadcast  Youtube Broadcast    


Description

A cheerful and peaceful folk song in which Prima sings in a romance-like language.
More examples
Once Upon a December

Author(s):
Ariothsu
Category:
Cover song
Featuring:
Prima
 Youtube Broadcast    


Description

A beautiful cover of the song from 'Anastasia'.
Lilium

Author(s):
ShingoTsukino
Category:
Cover Song
Featuring:
Prima
 Youtube Broadcast    


Description

A cover of the Elfen Lied opening song, Lilum, sung in Latin.
Silence,fear

Author(s):
Daifuku-P
Category:
Original Song
Featuring:
Prima
 Youtube Broadcast    

Marketing
Edit
Prima was one of Zero-G's professional aimed voicebanks and as such her boxart and voice are not aimed at the general Vocaloid fandom. Her boxart is from a stock image. The photographer was bg_knight(Ivan Grlic) who has submitted his work to various stock photo websites. An example of the original is here titled "beauty profile" File#: 1709473, there are other images based on the model currently on the second page, take notice of the eyebrow piercing.
After increased interest began to occur in Vocaloids and demand rose, Zero-G began reselling Lola, Leon, and Miriam from their own website via their virtual shop. Prima was also included in the sale, but according to Zero-G, although the three older vocaloids may get a redesign in the future they feel Prima is fine the way she is and neither she nor Tonio will receive a make over.[2]
Additional information
Edit
Popularity
Edit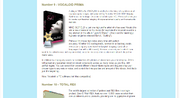 Prima has been held as one of the more popular of the English capable Vocaloids overall and was the first one to acquire a higher level of recognition then past Vocaloids had achieved. In 2010, Crypton Future Media produced a ranking of the Vocaloids they sold on their website. Prima was ranked the 9th most popular Vocaloid they sold, and the process the second most popular of the imported Vocaloids that Crypton sold.[3]
According to a flyer for discounts on Vocaloid released in 2011, Prima was ranked as Zero-G's 9th most popular product in 2011.[4]
A independent Vocaloid search on Nico Nico Douga revealed that most Vocaloids had less then 1,000 videos uploaded on Nico Nico Douga in between July 1 and December 15 with Prima falling into that category as well.[5]
Prima, Leon and Lola's release dates were celebrated in the "Zero-G Garnet Festival" (also referred to as "ZGF") on Nico Nico Douga. This event celebrates the release of these Vocaloids and songs were uploaded during this 3 day event. [6]
Prima was the most expensive Vocaloid 2 voicebank to purchase upon her release.
Prima's Taiwan design is loosely based on the Chinese opera house style of costumes. The costume itself is based on a theatrical representation of a animal, most likely a Kitsune based on the shape of the "tail" and ears.
Notable for...
Edit
First Vocaloid 2 Zero-G Vocaloid
First English Vocaloid 2 specialised Vocaloid.
First English Vocaloid to gain satisfactory levels of popularity
Most commonly used English Vocaloid2 by professional music makers
References
Edit
External links
Edit
Official :
Other :
Fandom :
Zero-G
Names &
Mascots
Vocaloid
Vocaloid 2
Vocaloid 3
Providers
Misc.
VOCALOID by Voicebank gender factor