This song article is lacking a proper background. You can help by adding one! The relevant section in the Song Article Guideline is a good starting point, and this blog post may also be helpful. We apologize for the inconvenience this may cause in the meantime.

Song pages lacking proper backgrounds are automatically sorted into this category.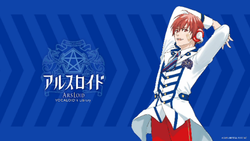 Song title
"RAINBOW"
Uploaded October 10, 2015, with 750+ views
Singer(s)
ARSLOID
Producer(s)
DaylightP (music, lyrics)
Links
Niconico Broadcast
Background
Edit
"RAINBOW" is an original song by DaylightP featuring ARSLOID.
Japanese (日本語歌詞)
Romaji (ローマ字)
太陽導く先はずっと果てない道
taiyou michibiku saki wa zutto hatenai michi
手探りで明日へ前へ
tesaguri de ashita e mae e
透明な水面に映る心の姿が
toumeina minamo ni utsuru kokoro no sugata ga
時には揺らめくけれど
toki ni wa yurameku keredo


迷う森は深く 出会いは不思議
mayou mori wa fukaku deai wa fushigi
すべて夢の中で輝いて
subete yume no naka de kagayaite


きらめきは時を超えて
kirameki wa toki o koete
思いは一つ見果てぬ世界へ
omoi wa hitotsu mi hatenu sekai e
涙落ちる前に見上げた空を彩る
namida ochiru mae ni miageta sora o irodoru
RAINBOW...
RAINBOW...


RAINBOW...
RAINBOW...
届けて 繋いで
todokete tsunaide


遥か彼方へ咲き向日葵のように
haruka kanata e saki himawari no youni
空高く両手を伸ばし
sora takaku ryoute o nobashi
足を止めなぞる記憶 刻んだ笑顔に
ashi o tome nazoru kioku kizanda egao ni
もう一度背中を押され
mou ichido senaka o osare


星降る夜に願い馳せるよりも
hoshifuru yoru ni negai haseru yori mo
この足踏みしめて
kono ashi fumishimete


輝くよ時を超えて
kagayaku yo toki o koete
思いは一つ新たな未来へ
omoi wa hitotsu aratana mirai e
舞いあがる鮮やかな光を
maiagaru azayakana hikari o
あつめてその手で紡いで
atsumete sono te de tsumuide


キミと描くよ RAINBOW
kimi to egaku yo RAINBOW
繋いで 夢見て
tsunaide yumemite
External links
Edit
| | |
| --- | --- |
| | Lyrics |